What is lead generation?
Lead generation is a very important discipline to master in your online marketing efforts. It creates a vital basis for many companies, especially B2B companies to grow their business. A lead is characterized by a person who has shown some kind of interest in your business either in a form of a product, a service or something else.
There are several things to consider when generating leads for newsletters or lead generation for other functions in the online marketing.
The correct type of leads
It is not only about collecting as many leads as possible. It is also about getting the correct type of leads collected, so that you get a strong email and lead list. In addition, it is about collecting the right kind of information from the individual people in order for you to get the necessary knowledge to be able to process the lead topic well enough in relation to the subsequent contact via newsletters, Email Marketing campaigns, telephone follow-up or other.
It is about getting the correct type of leads collected, so you get a strong email list.
Consider carefully how much information you need in your process of the lead generation process, because different studies have repeatedly shown that the fewer information a person need to enter or decide on, the easier is to get people to give their information.
Conversely, one can argue that the more serious one is with his inquiry, the more likely one is to want to give information.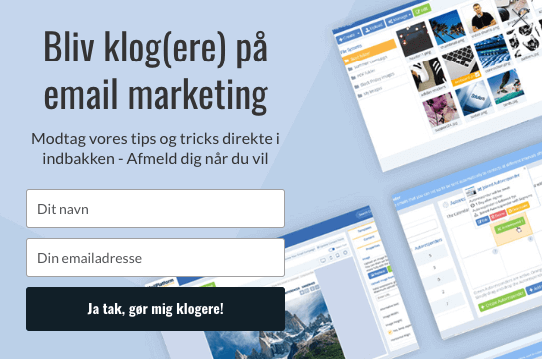 However, it is generally important to have as much information as possible, for you to have the opportunity to target your newsletters or inquiries into leads in the best possible way. The more basic information you have collected in the process of lead generation, the greater the chance of hitting the spot in the subsequent dialogue with the lead topic. You will therefore be able to create a very strong mailing list with leads if you get more data such as, for example, name, gender, date of birth, areas of interest, desired frequency of newsletters or anything else relevant to your business.
Read more here about which data can be relevant to collect – and why.If you would like to know more about how you can build a strong email list, read our article about building a strong email list
Think creatively during the collection of lead data
For many people it is not enough just to have the opportunity to sign up for a newsletter. People want more. They have to be convinced and they have to know that they will get something out of signing up for a newsletter. Therefore, consider whether there are ways to make it more interesting for people to sign up. Think of it like this: What should it take for you to want to give your valuable, personal information?
Below are some ideas for how you, via lead generation, can collect leads for the newsletter or to later processing as leads.
Collecting of leads on the website
The website is clearly a perfect place for lead generation – and the best part about this is that it is free! You have got people on the website anyway. That is, they have shown some kind of interest for your company and your products, so it is important to have it exploited.
If we speak for newsletter subscriptions, the obvious place to start is of course by having a "subscribe newsletter" place on the website. People place it often in a footer on the website, while others also choose to place it as a banner on the front page. This can lead to a new page where you can ask people to fill in information relevant to your leads.
An absolute no-brainer is to add the option to sign up for the newsletter in the check-out flow on a webshop in connection with specifying delivery information. Consider also making an option to sign up for the newsletter on the order receipt page if you have registered that the person has not yet signed up for the newsletter. Here, the conversion rate for the enrollment will often be quite high, as people at this stage have shown great interest in you and your business.
Consider also making an option to sign up for the newsletter on the order receipt page
Another popular way to create lead generation and newsletter subscriptions is via a pop-up, pop-in or exit popup, for example, by using the very popular Sleeknote service. If used correctly, you will see a significantly higher conversion rate for newsletter subscriptions or lead generation in general.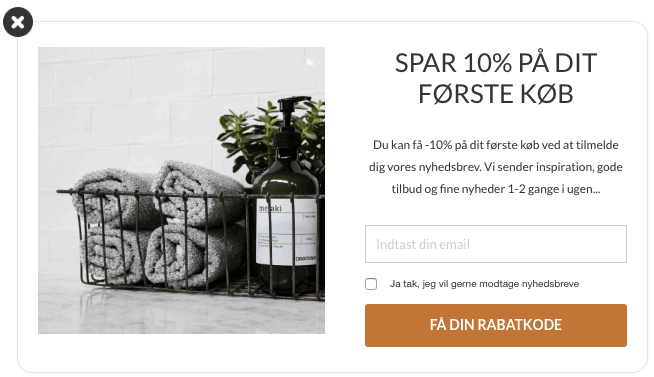 Content on the website & content marketing
Most companies that want to do something out of branding and marketing today have a content universe, where you write content targeted at both potential and current customers, but also the search engines. It can be e.g. guides, how-to's, whitepapers, access to surveys, videos or anything else. All things that can make you appear as a company that offers something interesting and relevant and that can support a content strategy of being a "thought leader". Along with this content, it is important to have attached a sign-up form, so you can try to get people to sign up for your newsletter, try your product, download a white paper or something else. You have already got them into your website – Now it is about using the traffic. It is an excellent way to collect leads, and here you get a more faithful lead that will engage more in your content and which will be easier to convert into a real customer.

Contests and prizes
Some choose to give prizes if you sign up for a newsletter or a list. It can for example be in the form of a gift card on X thousand dollars/euros/pounds, which will be deducted monthly (remember to indicate on the sign up form who last won, so people get a feeling that you can actually win), it can be a gift from the webshop or something completely different. It is worth mentioning here that these scenarios can get collected leads that are not always of a high quality, as there are many "competition-seekers" out there who only sign up to win prizes.This is very well exemplified in the screenshot below, where you can see that some people simply search in Google for "sign up for newsletter contest":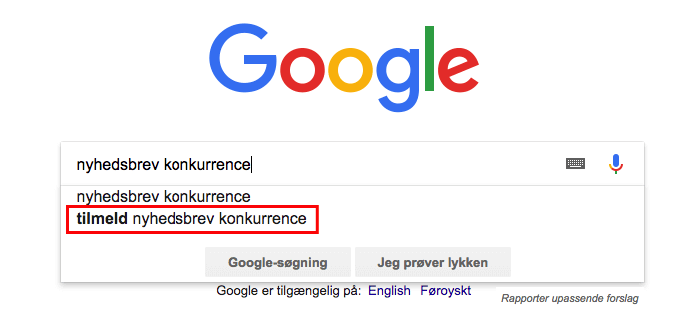 This means that a person will then get a registration for a newsletter, who really does not have any interest in your product but only goes for the prize. In addition, you often see that these people either unsubscribe from the list or alternatively, there is no commitment from the people who do not unsubscribe from the list.
Therefore, use contests carefully, and make sure that these leads come in on their very own list, so that you can more easily keep an eye on their performance.

Blog
In many industries, it is still popular to use blogs to promote content. As with content marketing articles, blogs often send organic, free traffic to the website, and here are good opportunities to collect leads. If you write a blog post about "Wild Facts on Black Friday", you can create a related popup with download of a guide "How to prepare your Black Friday marketing" for submission of email address.

Chat
Allow people to chat with you as soon as they enter your website. Quite often you will find that the conversion rate of people who have interacted with the chat is significantly higher than the overall conversion rate of the website – even if you are not online on the chat. In addition, use the chat to draw attention to actions on the website that can get an email address. For example, make a link at the bottom of the chat window for downloading a catalog, a white paper, a webinar or something else.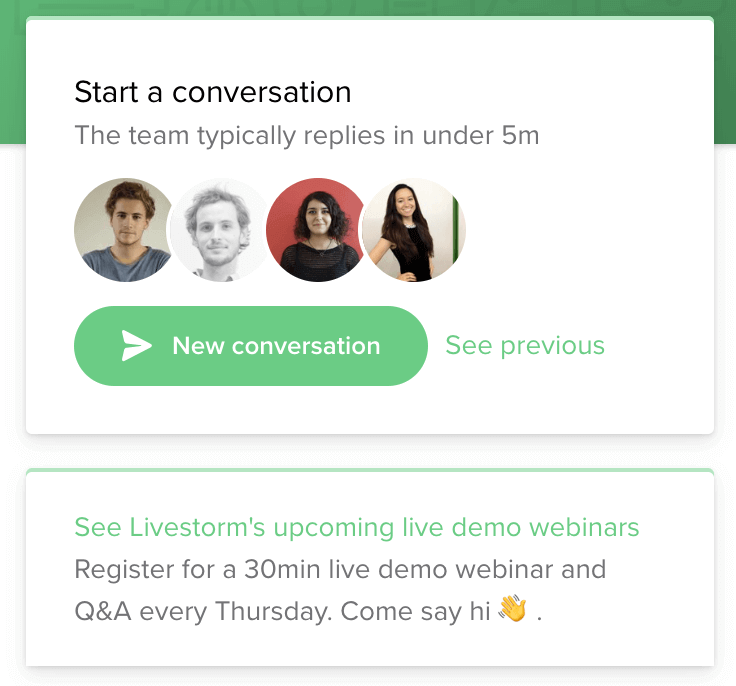 Email
You may already have a good amount of signups for your newsletter, but you would like more people to sign up for a trial period for your product, get them to download the latest catalog or other. Use your clear-to-action (CTA) newsletters to get more people to do the action you want them to.

Trial versions of a program
It is always a good idea to make trial versions of a program or service that you offer. As soon as you get people to try your product or service, you know they are interested, and it is easier to make them to actually buy. You can process them with different types of content and offers until the lead actually becomes a customer. Make sure to thoroughly insert the lead into the use of the program and make sure to follow up with relevant information for the lead during the trial period. One idea is, for example, to set up a Marketing Automation, where the lead during the trial period receives a series of emails relevant to the use of the product.
Games and gamificationGames are increasingly used actively and creatively in the attempt to obtain more leads and new customers. Especially around Christmas time you see many creative ways to incorporate a Christmas calendar with lead collection, but at all times of the year you can think of gamification. The example below is with the "spin to win" concept, which most people have come across on a website sooner or later. The idea is that you give your email address so that you can win something. It can be a free consulting time, free shipping, 25% discount on the order, a free gift, a dinner with the director for companies or much more. Only the imagination sets the limit.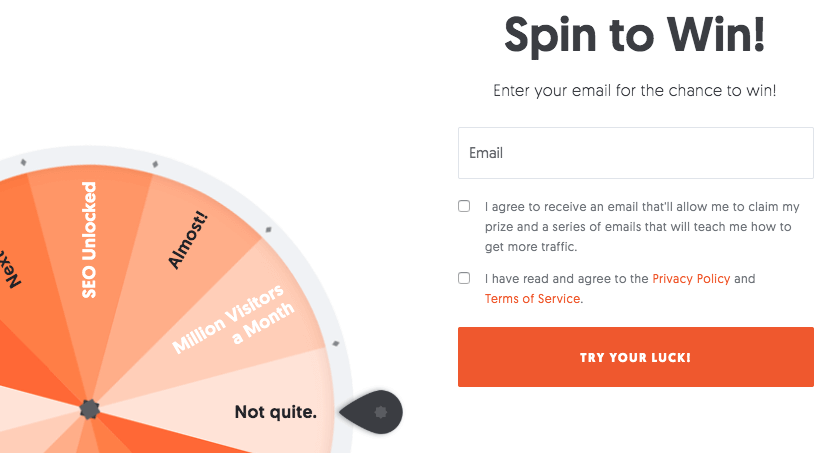 References from other websites
A more alternative way to generate leads is by getting its name spread as much as possible through 3rd party sites. Example: You have a SaaS (Software as a Service) company and you offer a product that can be integrated with another popular software. You then make sure to get your logo and company name on the website, where you will appear together with other, well-known companies, thereby achieving greater visibility and gaining widespread awareness, which over time will help in securing more leads.
Webinars
Especially in the B2B world, webinars can be a very effective way to get really heavy quality leads. Set up a number of webinars where you tell about relevant topics within your industry that potential customers might be interested in. Hold them yourself or invite relevant people to the webinars. Use tools like Zoom to create and host seminars. Share in your network in LinkedIn, Facebook etc. that these webinars are held and also try to create paid ads with invitations. Make sure that your email auto signature mentions the webinars, add it to the live chat on the website or anywhere else that might be relevant. Make the webinars available to interested people after the live broadcast, but make sure to save the webinar with the password, where you have to provide email address (= lead) to gain access.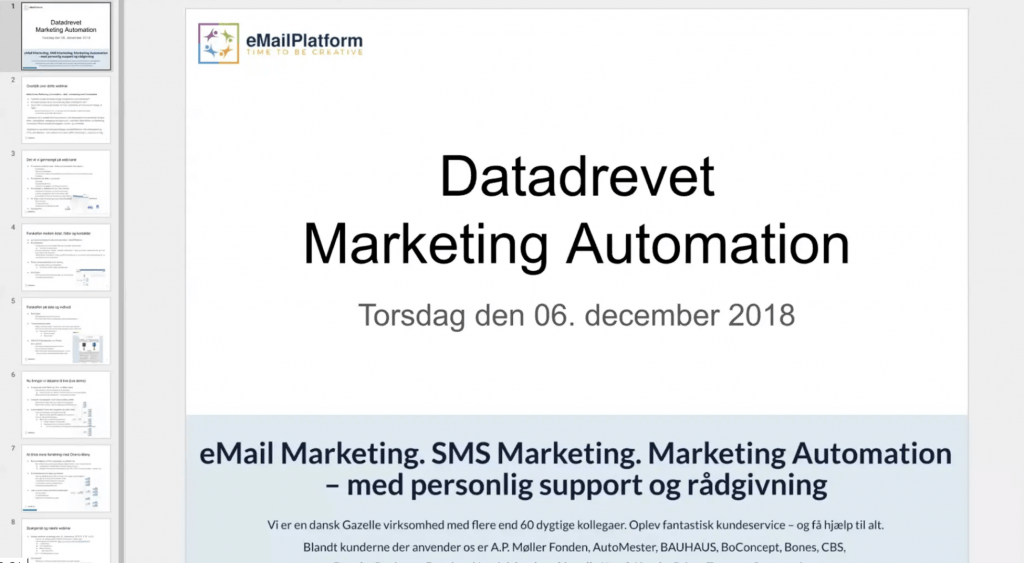 Podcasts
In line with webinars, podcasts can be used to gain leads. The principle is the same as with webinars. Find topics that your target audience is interested in, be a host or invite an interesting person. Make these podcasts available after broadcast where people need to give their email address. Make sure also to share your podcasts on relevant sites like iTunes, SoundCloud, etc., so the chance to collect leads is even greater.

Microsite
Create a so-called microsite that is made for the purpose of attracting traffic and obtaining leads. If you have a webshop with a shaver on the barbergrej.dk domain, and if you had the opportunity to buy the domain barberblade.dk, you can create a microsite on this domain and target the contents around razor blades. Make sure to use the usual techniques on this site with popups, exit popups etc. with sign up forms.

Mobile
Do not forget the mobile version of the website. Although many companies, especially within B2C, currently have 50% or more traffic on the mobile version of the website, many still have only eyes for the desktop version. Think about your mobile in the lead generation and keep in mind that large popups, headers and footers can quickly appear more frustrating than effective if they take too much focus, are difficult to click away or similar.
Paid advertising
It will often pay off to take advantage of paid advertising to collect leads. There are many options today depending on the target audience and product, including Google Ads, Bing Ads, Facebook Ads, LinkedIn Ads, Instagram, Snapchat, Twitter, Affiliate Marketing etc. Here, we will only concentrate on the two platforms where you, at the time of writing can run the actual Lead Ads.
Facebook Lead Ads
One of the very popular methods of lead generation is via Facebook and their Lead Ads campaigns. If done correctly, you can collect leads here for a few dollars/euros/pounds – depending on the industry. It is not unusual within B2C to be able to gain leads down to 0.30 -0.40 cents each, while B2B prospecting often sees some somewhat higher prices. Here is a lead often of a much higher value than the average B2C lead, and therefore one can afford to pay more per lead.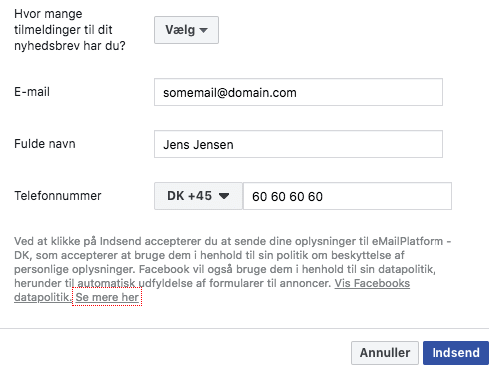 It is important to be very sharp in its segmentation and target group choices to achieve the best possible results.
A great advantage of using Facebook Leads Ads is that you will in advance have much of the information that you would like to collect. That is, unlike the collection of lead information on a website where a person often has to manually enter his/her information, Facebook Ads uses information from the individual Facebook user's profile, which is then automatically inserted into the lead form.
If you want to collect data such as name, email or job title, this information will be filled in advance in the lead form (if the profile has filled in this data), and your lead must therefore only click "sign up", after which this data is available to you. The data from your lead is then ready on Facebook for download.
If you would like to have automated this process, so that you do not have to manually keep track of collected leads, it is possible to make a relatively simple integration with Zapier, where a bridge can be made between Facebook and your Email Marketing system or CRM, so that leads are automatically transferred. Consider here creating a separate list for these leads, in order for you to be possible to measure performance on the collected leads from Facebook.
If you use MarketingPlatform as the Email Marketing system, we can help set up Zapier integration between Facebook and MarketingPlatform.
LinkedIn Lead Ads
LinkedIn has long been a sleeping giant, which specially offers interesting opportunities for B2B.
The very big problem with LInkedIn has been, and to some extent, still is, that the possibilities in the advertising part are very limited and lacking. However, LinkedIn gradually opens up more and more for new opportunities, so it gradually becomes interesting. They still have a long way to go to be in the same level with Facebook, but nevertheless, they have several new, interesting features.
One of them is the opportunity to also make LinkedIn Lead Ads.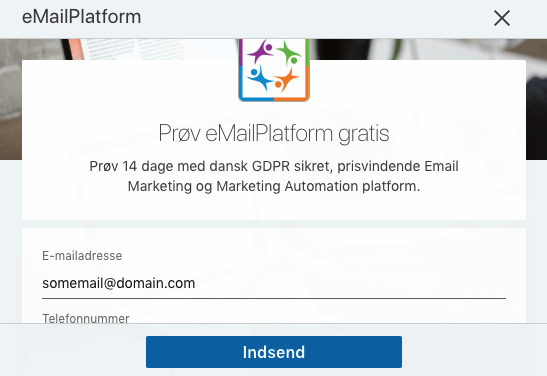 The principle is exactly the same as with Facebook Lead Ads. You request the information you want and LinkedIn automatically takes this data from the person's profile, so that it does not have to be entered manually.
It is clear that this feature on this platform is most interesting for B2B companies. In addition, it should be mentioned that here you are "hit" in the same principle as by ordinary marketing on LinkedIn: Prices are relatively high, so one should carefully check whether the collected data is usable. Conversely, a lead will often be of significantly higher value in B2B context, so for many people, it may still be a good business.
As with Facebook Lead Ads, LinkedIn Lead Ads allows direct integration between your Email Marketing system or CRM via Zapier, and therefore the data is automatically transferred.
If you use MarketingPlatform as Email Marketing system, we can help set Zapier integration between LinkedIn and MarketingPlatform.
Alternative lead generation methods
There are many other ways to collect leads with online tools that do not provide a lead in the form of an email address. Examples are lead generation programs such as Leadfeeder or Albacross which can be very interesting, especially for B2B companies.

These programs trace your visitors on the website and give you an overview of which companies have visited your website and which pages they have seen.
They link the data with LinkedIn profiles and give an overview of which persons are associated with the company who visited you, and which positions they have, contact data etc.
The tools also show which pages the companies have visited, how long they have spent on the website, whether there is more than one person who has visited the website, and which sources and any keywords have been used to find your website. This provides invaluable information to the marketing department, and at the same time, a really strong tool for the sales department.
Try MarketingPlatform for free for 14 days
The trial period is free, completely non-binding and expires after 14 days if you do not wish to continue.
When you sign up, you will also receive our educational flow via a series of emails along with our newsletter with regular updates.