Email marketing campaigns are a driving force behind all marketing campaigns. They serve as an unbelievably valuable service to companies and brands. It is one thing to deliver a message. But it is another when the message can stick. Email can help in delivering your message and driving it home.
Preparing and sending the right email marketing campaigns requires both insight and foresight. If they are done correctly, they can bear the fruits of your labor. But, if they are not done correctly, they can turn out to be a disaster.
Here, in this article, we show areas of focus and look at 5 ways to get the most out of your email marketing campaigns.
But first, what is an email marketing campaigns.
What Are Email Marketing Campaigns?
Email marketing campaigns are emails that are sent to an audience (subscribes, customers, etc.) with a call-to-action. Here the intent is clear; to convince the reader to act. That call-to-action could be to generate leads, nurture leads or make sales. More importantly, it is to help companies in driving more business.
What is more, it can be a series of emails sent to several people at the same time. Rules can be applied so that consecutive emails are sent based on the recipients' actions. In email marketing terms this is commonly known as segmentation.
So, let us now look at 5 ways to get the most out of your email marketing campaigns.
1. Content Is King
Content is king is a phrase I'm sure you have heard of before. It is a quote that was made famous by Bill Gates. It was an essay, with the same title, he wrote that was published on Microsoft's website in January 1996. What he said would prove to be a prediction that would be confirmed over the years, repeatedly.
"Content is where I expect much of the real money will be made on the internet, just as it was in broadcasting."
In today's day an age, content is available to anyone and everyone. And it is at the fingertips for all to see and read. But with so much internet users, now more so than ever before, releasing content for the sake of having content is simply not enough. With so much competition, the battle for attention becomes more enduring.
So, the focus should be on quality content, and not quantity. Quality content is no longer a choice. It is compulsory. As a result, content marketing has become customary practice for all marketers. For without content, quality content, there can be no success.
2. Creating Engagement
If your email marketing campaigns are not creating engagement, then what are they creating? Probably not a lot, other than passing through someone's inbox and going directly into their deleted emails folder. Obviously, this is not something any marketer wants to bear. Time and effort are spent in preparing campaigns for you to see the death of them before they even begin.
To create engagement, there are many factors that need to be considered. Campaign templates/designs need to be creative. They need to stand out amongst the many other emails recipients receive.
So, to stand out, themes should be in line with the subject matter. This can be tied with the relevant content of the email marketing campaign such as a new product, giveaways, sale period or even feedback stories.
You can also read our article 21 great ideas to create more engaging newsletters to help you further with creating engagement.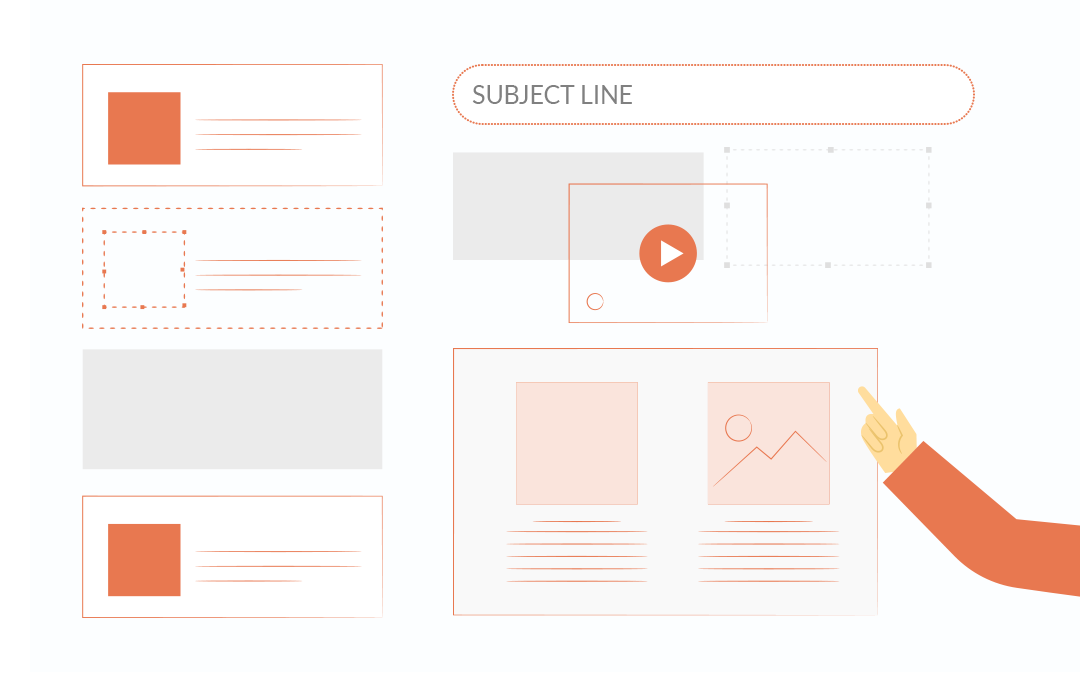 3. Subject Lines
Another area to focus on is subject lines, which is the first thing recipients see. If the subject line does not catch the eye of the recipient, then it is unlikely that they will open your email, read your email or even click on your call-to-action.
Subject lines need to grab the recipient's attention. The purpose of a subject line is to wheel the reader in. And make them want to click and open your email. This can be done by asking a question, making a statement or simply a play on words.
For example:
Have you heard about the benefits of X product?
7 ways to make you want to click
A how to guide on how to get from A to B in the blink of an eye
Subject lines and words used are all dependent on the industry and nature of your business, along with the subject matter. So, intrigue your recipients and make them want to click and open your email.
4. Abandoned Carts
For many web shop businesses, abandoned carts are a common theme. People come to view, select items, with half an intent on buying them, but then leave without making a purchase.
This is a good opportunity to make the most out of your email marketing campaigns.
You have an interested buyer, so why not set up a campaign to directly target them? Give them a push/incentive to get them over the line. With the use of segmentation, you can automatically follow up on abandoned carts.
For example:
A customer views and adds an item into their cart, but does not make a purchase. A follow up email can be sent to remind the customer that they had an item which they viewed and added to their cart. A note can be added by providing more information on the item that can help the customer in deciding to make a purchase. If this does not work, then another follow-up email can be sent with a bonus incentive; Buy now and receive 10% off on check out.
5. Offer Value
Probably the most critical area of focus is offering value. For your email marketing campaigns to be a success, you must offer value. Because if there is no value, then it defeats the purpose of the campaign.
Make no bones about it, consumers are always on the lookout for exclusive offers, deals and savings where possible. On the same token, you would be hard pressed to find someone who does not want value for their money.
But on the other hand, offering value is not just done in the form of a dollar factor. Just because a product is cheaper than another similar product does not mean it is of better value. Offering value can also be done in the form of presenting a pro argument to the quality and benefits of the product.
Would you pay extra for a product which is built and designed for longer durability and offers a better return? I know I would.
Draw On Inspiration
While email marketing campaigns can be easy to create, we know that creating successful campaigns requires a lot more work, and a dynamic thought process. So, to draw inspiration, it is always beneficial to think outside the box.
As humans we are indirectly influenced by things that go on around us. As a marketer, if you can see 360 degrees then ideas will come to mind and further enhance your email marketing campaigns.
And sending more content with less quality will most likely not yield you results that you set out to achieve. However, by focusing on quality content, even if your message(s) are less frequent, will prove to be more successful. Afterall, nobody likes listening to a broken record.
This blog post has also appeared in a MarketingPlatform Newsletter.
Author: Alex Trajcevski
Try MarketingPlatform for free for 14 days
The trial period is free, completely non-binding and expires after 14 days if you do not wish to continue.
When you sign up, you will also receive our educational flow via a series of emails along with our newsletter with regular updates.