As we explore elsewhere on MarketingPlatform, Content Marketing should form a vital part of your overall communication strategy.
You want to meet your customers where they live and so you are always looking to engage your audience and build their customer journey through as many relevant touchpoints as possible.
But what are those touchpoints and what is the kind of content that works with them?
How long is a piece of string?
To be honest, depending on how much of a "completionist" you are and how much you like to put things into boxes, this list could either be distilled down to around 4-8 key areas, or explode into dozens of individual specific examples.
In order to make things a little easier for ourselves then, let's start by putting a frame around the subject and group the types of content into three broader categories. 
Text Content

Multimedia Content

Other Content
And a huge variety of content can be placed into these overall categories.
Text Content 
This is material that has no audio or video content. Here words are the tools with which the engagement is created in the mind of your audience. Graphics or photos may be used, but this only by way of supporting the overall written content rather than being the focus of it.  Examples of text content include:
Blogs
Long-form content
Case Studies
White Papers
Articles
How-tos
Testimonials
Product Reviews
Research
Lists
Q&As
FAQs
Industry News
Company News
Guides
Wikis
Quizzes & Competitions
Promotions
Multimedia Content
In this category we find a mix of media and materials, including video, audio, imagery, or a variety of combinations of these, such as:
Chat rooms
QR Codes
UGC (User Generated Content)
Apps
Plugins
Free Tools
Landing pages
Countdowns
Templates
Collaborations
Ads
Browser extensions
Diving into all of these individually here is not practical, so instead in this article we will highlight just a few key examples of the proven highest-performing types of content and explore a little background of why they could be effective for you in engaging your audience.
We will focus on:
Blogs (Text)

Infographics (Text)

Video (Multimedia)

Long-form content (Text)

Case Studies (Text)

White Papers (Text)
And for the sake of clarity, we include Webinars and Vlogs under the overall umbrella of Video.
Blogs
For many business blogs sit at the heart of their content marketing strategy, and for small business especially it has become one of the most popular and effective types of content marketing.
However, blogging is not just for small businesses, because they are proven to be one of the best and most cost effective ways to improve SEO/B2B SEO, drive more organic traffic to your site from search engines, and especially with a tight marketing budget, supplement whatever advertising you can afford with highly effective inbound content.
The evidence in favour of blogging is overwhelming, and Techgraphic has shared some highly illuminating research on the effectiveness of blogging. It is well worth reviewing the entire infographic; however, the following extract sets the scene elegantly: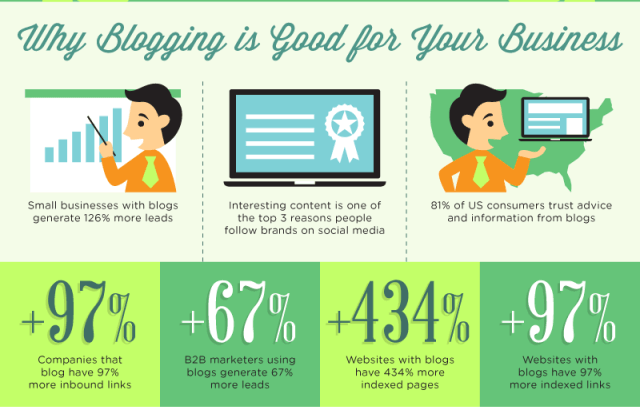 From an SEO perspective alone, companies with blogs have 97% more inbound links, 97% more indexed links and websites with blogs have 434% more indexed pages.
Small businesses with blogs generate 126% more leads and engaging and relevant content is shown to be one of the top 3 reasons why people follow brands on social media.
Blogs, therefore, not only improve your SEO, they also:
generate and nurture leads

improve engagement, and 

build credibility for your brand. 
As a result, maintaining a consistently and regularly updated blog with high-quality content can result in significant levels of traffic being driven to your site.
Blog posts also offer you a valid reason to communicate with your audience, making them a worthwhile feature of engaging email marketing campaigns designed specifically to increase engagement with your brand.
Ultimately, the more valuable and relevant the content you share in your blog, the more likely your audience are to trust and choose you when the time comes for making a purchase. 
Infographics
And seeing as we've introduced the subject of infographics already, why not explore them in a little more detail as our next focus content type?
If you have clicked through to the Techgraphic hosted content we link to above, you will already have seen that they are a highly effective and engaging way of sharing complex concepts or information with an audience. 
They are useful for quickly and easily demonstrating why an idea or product is particularly good and can represent very clearly how something works.
The trick always with infographics is to let the imagery do the work, visualising the data you want to share and be understood, rather than merely creating a list or a more long-winded explanation.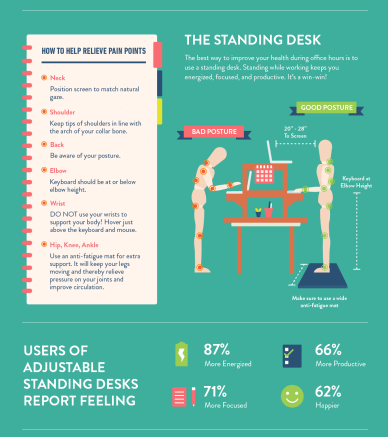 In this example, part of a collection of infographics available for your inspiration at the Creative Bloq website, the company Ultimate Mats is educating its audience about the importance of staying healthy at work while simultaneously seeding in the mind of the audience the impression of the brand being an expert in the field with a quality and effective product. 
Using eye-catching visuals that are relevant to the topic, they make it very simple for the audience to understand the information being shared.
To do so effectively, a design needs to be simple and uncluttered, and the content broken up into distinct and easy to digest sections. It is also important to remember that space in a design is also vital in keeping the content appealing, so content should not be crowded.
The basic rule of thumb when creating an infographic is to consider if the information you want to convey would benefit from visualisation. If so, it makes for an excellent infographic topic, and even complicated subjects or dense statistics or data can be effectively shared and understood through infographics. In fact, infographics can be extremely useful in demystifying and explaining intricate concepts and information.
As such, infographics can also make for an excellent tool in email marketing campaigns, and our creative team would be happy to help advise you on how to effectively use them.
Videos
No article exploring types of content could possibly ignore video. Nowadays, people are viewing more video content than ever before, and at least one-third of ALL time online is spent in watching video content (and this excludes streaming services). The engagement that video creates with your audience is immensely powerful, and including video on your landing page can increase conversion rates by over 80%. That's why you should take extra effort to edit your videos using a free online video editor.
More than that, a handful of other, fairly mind-blowing, statistics from Insivia show that the impact of video content simply cannot be ignored.
Remember though, as always your video content needs to be relevant to the needs and wishes of your audience, as 20% of people still close videos within 10 seconds of them starting, and according to Cisco, it would take more than 5 million years for one person to watch the likely amount of video that will cross global IP networks each month by 2021.
Bearing in mind what topics matter for your audience, and how using video can address these subjects sit at the core of your video content strategy. Depending on where your audience is in their journey with you these can be short engaging clips on a landing page, social media awareness raising content, or more in-depth "how to" content, demos, unboxing videos or webinars that explain not only your inherent value as a brand, but your nature as a marketplace expert.
Long form Content
We opened this article looking at the efficacy of blogs as a content tool, however, whilst blogs can be quite lengthy, strictly speaking they are not long-form content.
Why not?
Often blogs and articles will be between 1,000-2,000 words in length. 
Long form content however will be much longer, anything between 4,000-15,000 words, and often will best sit separated from your main blog. 
By and large, Google prefers content rich sites, and especially long-form content over shorter material.
Typically long form content will frequently be broken up into several chapters or sections, each of which will themselves ideally have separate URL pages (although this is not essential), be heavily marketed and linked to both internally across your site and from your external content.
The object of your long form content will be to establish your website as a go-to destination – to offer thought leadership and add credibility to your brand. This content will itself be of inherent value, and it differentiates you from your peers, by being thought-provoking, inspiring and shareable. 
Common types of long form content are things such as guides, and to a certain extent, wikis. These guides will come in myriad forms, each according to the need they are answering, but all essentially have the same core characteristic of being much more in-depth and comprehensive than other written you content that you may have produced such as your blog.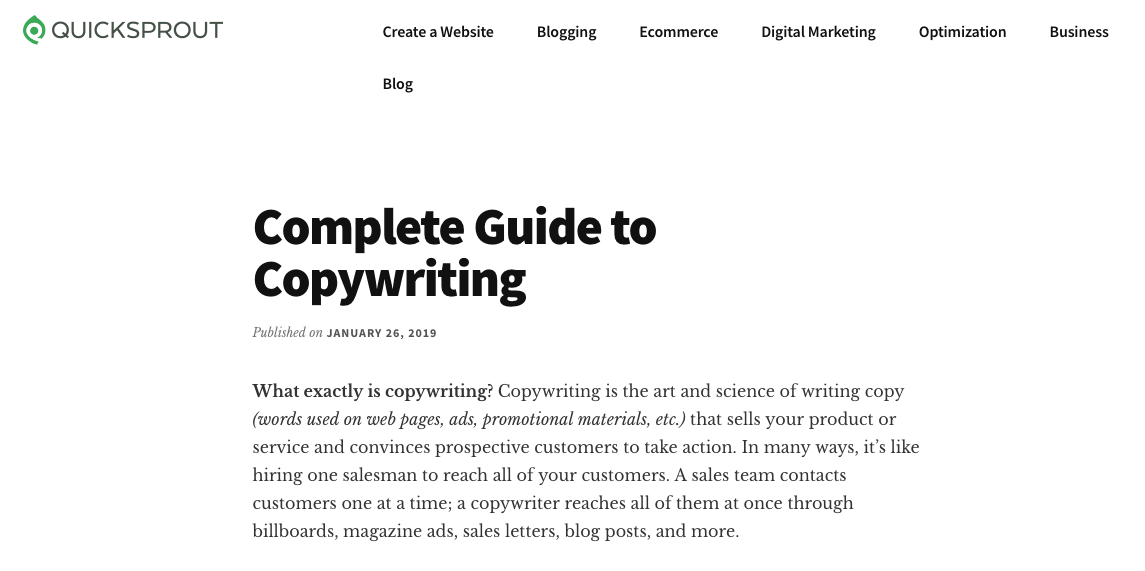 Quicksprout created an exhaustive  "Complete Guide to Copywriting" earlier in 2019 which takes a deep dive into what it is to create good copy across all your touchpoints. Going into great detail, the guide explores what audience research you as a brand should undertake in order to understand how best to engage them with your copy. 
It then dives into examples of organisations have used that research methodology to do so, and how it has affected their bottom line, closing with how you as a communicator can take your copywriting the next level and benefit similarly.
It is presented in an easy-to-read format that is both clean and uncluttered and uses an authoritative tone that adds gravitas to its message without being overly worthy, enhancing the brand as an authority on the subject as a result.
The trick with long-form content is to ensure that your audience know it exists. So it will need to be promoted, heavily. But the payback is enormous, and worth both the investment of time and money.
Case Studies
We are all aware of the value that recommendation and client endorsement can bring to your product and brand. Case studies are the customer success stories that reflect how your input, your product, or your values have made the big difference for your clients. Whilst they might lack the independent weight and credibility of a Trustpilot review, they are nevertheless an excellent window into the relationship you build with your customers.
If you can provide a tangible and sincerely worded endorsements from your customers, you will find these are strong persuaders in closing the deal in the eyes of many a potential customer.
Case studies are key in building credibility for your brand, however, they must ring true, and be presented in such a way that ushers the reader through the journey that your customer enjoyed in a genuine tone of voice.
Templating your case studies is wise, and at the most basic should cover the following bases:
The identified problem or challenge

The offered solution

The strategy devised, and:

The tactical implementation for reaching that solution, and finally:

The results
Case studies are therefore much more than just testimonials, because they actually dive deeper than just a positive quote from a happy client. They put the potential client in the position of being able to identify with a specific challenge and see how your product or services actually resolved that issue.
Bearing this in mind it is critical that you consider which of your customers you ask to serve as case study examples. They should be customers for whom your products or services have delivered genuine and significant benefits. And they should be customers who are willing to offer and share not just kind words, but some facts and figures about how you helped them overcome their particular challenge. 
An excellent example of how to do this well comes from Adobe in a case study they present with Royal Bank of Scotland.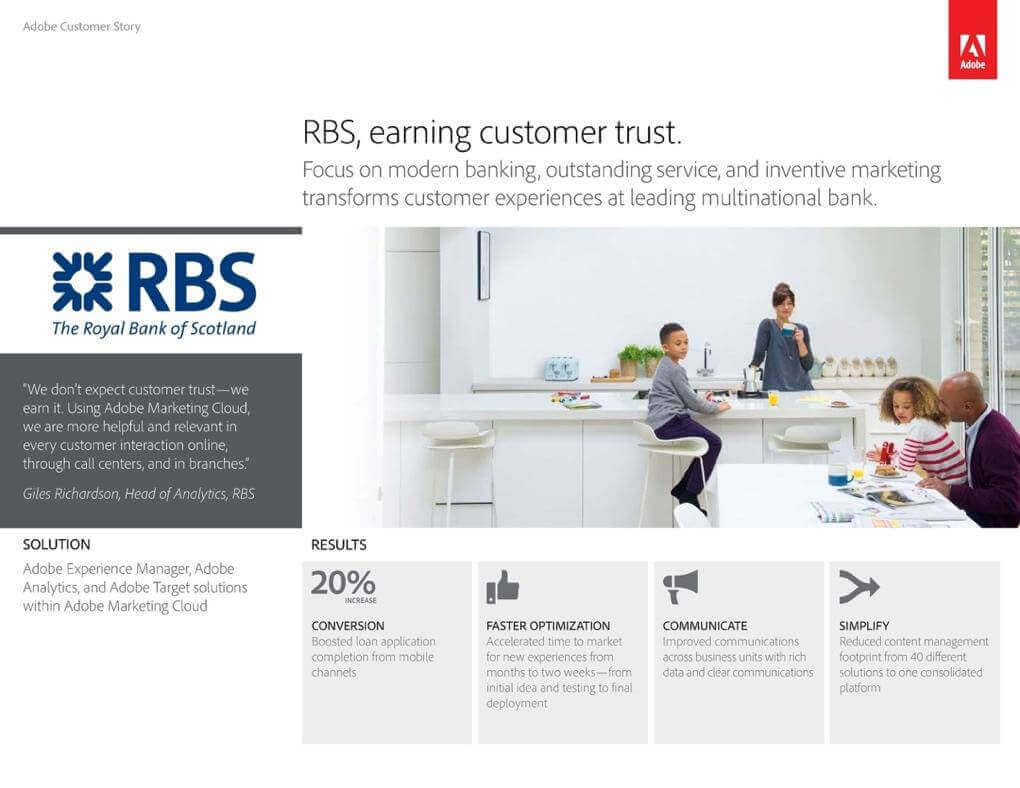 In this case, Adobe were asked to help RBS with generating and fostering a culture of data driven decision making, whilst delivering digital experiences that were intuitive to use. According the case study, and most importantly in terms of credibility, back up by evidence supplied by their client RBS, their approach resulted in a 20% uplift in conversion rates and highly optimised content management processes that improved productivity and efficiency at the bank.
Whilst this is a particularly thorough case study, it nevertheless demonstrates how giving your client an active voice in the study hugely benefits the credibility of the story you are telling. Let them be your ambassadors. 
Where you choose to host your case studies is not just limited to your website. These are good news stories and are perfect for building your brand narrative. They can be used in your email marketing campaigns, blog, white papers, social media campaigns, and in other types of both long and short form content. Matching them to your target client personas and sharing them with your sales team will also help them close the deal with new clients that match the profile of past success stories. 
Case studies cut to the heart of your value to your potential customer. 
Tell them your story, by telling your customers' stories.
White papers
Our final content type for exploration in this article is the White Paper. As a long form content type, and being inherently information, detail and data-driven, the more comprehensive nature of white papers makes them an excellent tool for building reputation, thought leadership and credibility for your brand. Moreover, white papers have proven to be extremely effective for generating leads.
A 2017 report by DemandGen revealed that 76% of the respondents would willingly share information about themselves with a business in exchange for a relevant and meaningful white paper. In the same report, white papers also feature highly, at 77%, as a content type that people have used in researching B2B purchasing decisions, second only in fact to case studies.
This means that the information that these potential customers share with you by signing up for and downloading your white papers not only affords you better insight into your target audience, but also gives you a valid reason for maintaining contact with them as part of ongoing email marketing campaigns. 
Even more than that, white papers are excellent at positioning your brand as both a trusted source and a potential purchase option.
However, in order for you to collect lead information your white papers will need to be gated. This requires you to tease the white paper content effectively enough to engage the interest of the potential customer. 
Make the specifically designed sign-up landing page clear, appealing and straightforward: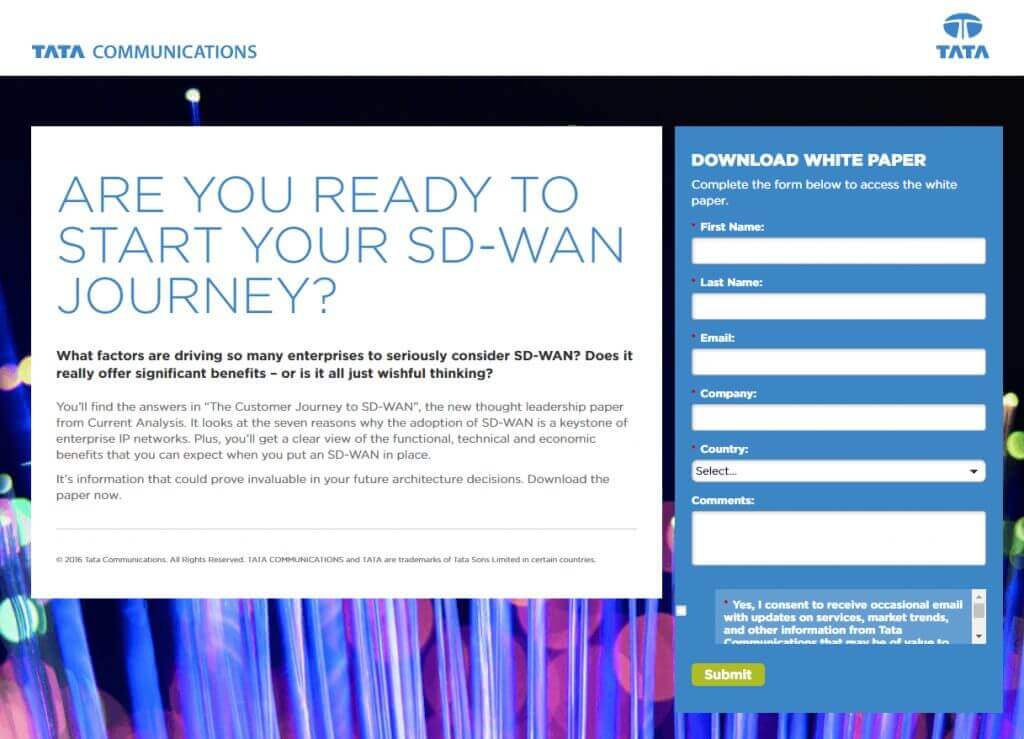 Make sure that the reader is completely clear what it is they will get in exchange for offering up their personal information. Similarly, make sure that you as a brand get the information you need from this new lead. But be careful not to press for too much, we live in the GDPR world, and customers are justifiably wary of what data they offer up to brands. Don't spook them.
It also means that the content of the white paper must be of specific and genuine value to the potential customer. Remember, you are asking them to offer up their information to you and spend the time perusing the white paper itself. 
Give them something from which they can benefit:

Don't abuse their trust or waste their time with material that is trite, ill-researched or badly presented. 
Invest time and energy in creating something that is really useful, that gives the audience something of true value, and you will reap the benefits accordingly.
White papers give you the opportunity to position yourself, your brand and your products and services at the pinnacle of your industry. They also give you a means to gather new leads, but also to a reason to communicate with your existing customer base.
As with other well researched and presented long form content, they will build the profile of your site as a go-to destination for relevant and meaningful information, and in the end, done well, they will also act as a major influencer in your potential customers' purchasing journey. 
In Conclusion
What matters most with all of the content types we have touched upon here is quality. 
If you create and share content that creates value and answers the needs of your existing and potential customers, you will place your brand and products at the centre of their minds when considering what it is they will purchase next.
You will also, by default, create a valid and relevant reason to communicate with your audience.
Which is the entire point, after all.
Try MarketingPlatform for free for 14 days
The trial period is free, completely non-binding and expires after 14 days if you do not wish to continue.
When you sign up, you will also receive our educational flow via a series of emails along with our newsletter with regular updates.