7 Great Email Marketing Examples to Inspire You
Is Email Marketing still relevant?
You bet your life it is.
Research from Statista shows us that there were around 3.8 billion email users in the world in 2018. A figure that is projected to rise to 4.4 billion by 2022.
Of course, other channels, mobile messengers, and chat apps have appeared on the scene and proven their worth in recent years. But their effectiveness has happened very much in conjunction with, rather than instead of email marketing. 
And email marketing is still so effective in fact, that in 2018 there were approximately 281 billion emails sent and received each and every day worldwide, an upwards trend that will result in an expected 347 billion emails being in daily circulation by 2022.
Holy cow, how do I stand out in all this noise?
Well, you know very well what it feels like to have a full inbox clamouring for your attention. But you also know what it is that encourages you to open, read and respond to emails.
In brief, the three basics that you always need to have covered are:
The When – making sure your email hits the inbox at just the right time
The What – grabbing attention with a perfect subject line
The Who – segmenting your list to make sure the right people get the right story
Even if you have these boxes checked, should the content of your campaign miss its mark, your subscribers will be much less inclined to open the next mail you send, so you have to remember to live up to the promise of your subject line.
With all that said and done, you know as well as anyone that when email marketers get it right – and we mean REALLY right – we don't just open and read the mail, we click and act upon its content, and we might even share it with our friends.
So, to challenge you to strive for excellence and relevance in your campaigns, and by way of inspiration, we have collected here a few examples of what we feel to be great, and in some cases even brilliant, email marketing campaigns.
1. Grammarly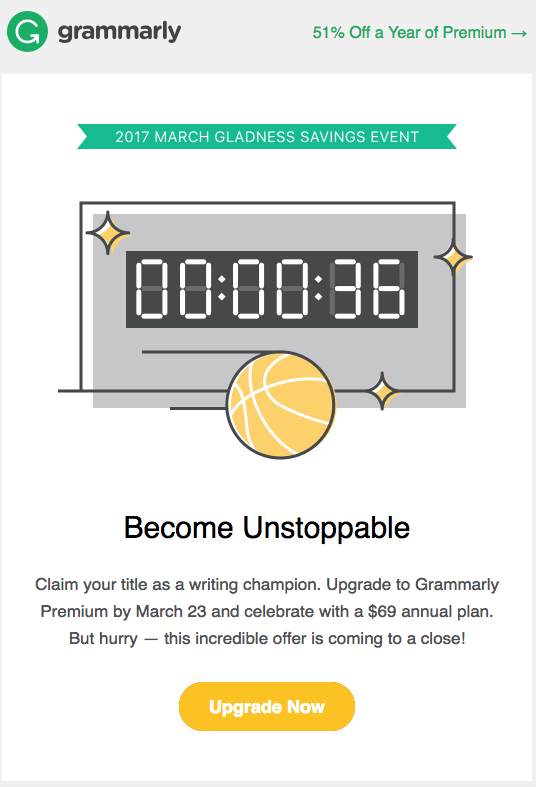 Grammarly is an online spelling and grammar checker with a broad and diverse potential audience. A bit dry and not exactly the most promising of starting points, right?
Wrong.
In 2017 they brilliantly played to their strengths and capitalised on the very anglophone concept of "March Madness" with their word-play "March Gladness" in their savings event, designed to drive up premium subscriptions.
The very clear call-to-action is supported by simple, direct and easy to understand copy. This campaign is deceptively elegant in its minimalism, with an eye-catching design built around a concept that reflects the time of year in an amusing and engaging way.
This last fact is especially relevant because they are using English word-play about a product that helps you improve your use of the written language – something that will meet with wry appreciation from their audience.
We particularly like this campaign for its combination of simplicity and the appreciation it shows of its target audience.
2. Airbnb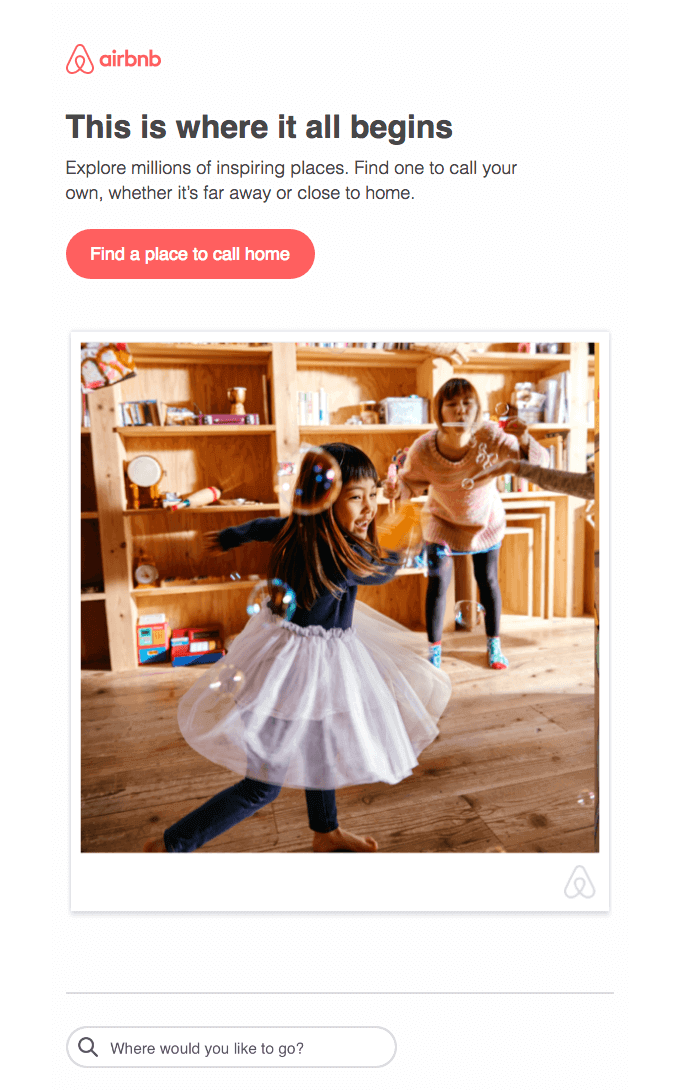 And talking about simplicity, this Airbnb campaign is a superb example of the way in which keeping something simple exponentially increases the power of the message.
An exquisitely simple combination of copy, image and call-to-action text, this campaign creates a mood that tugs on the heart-strings, and almost compels you to explore further.
Beautiful.
3. BuzzFeed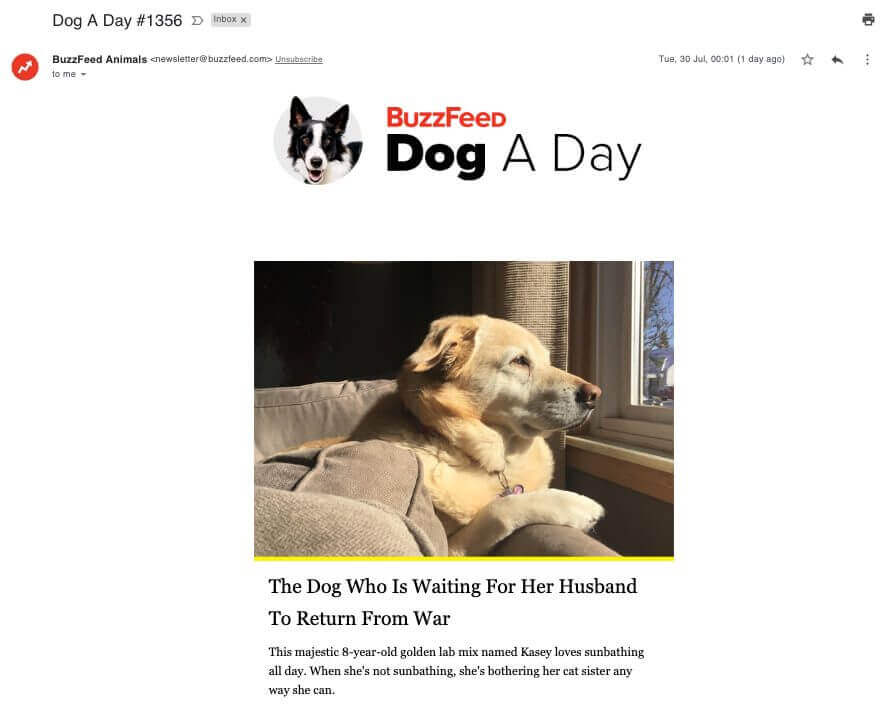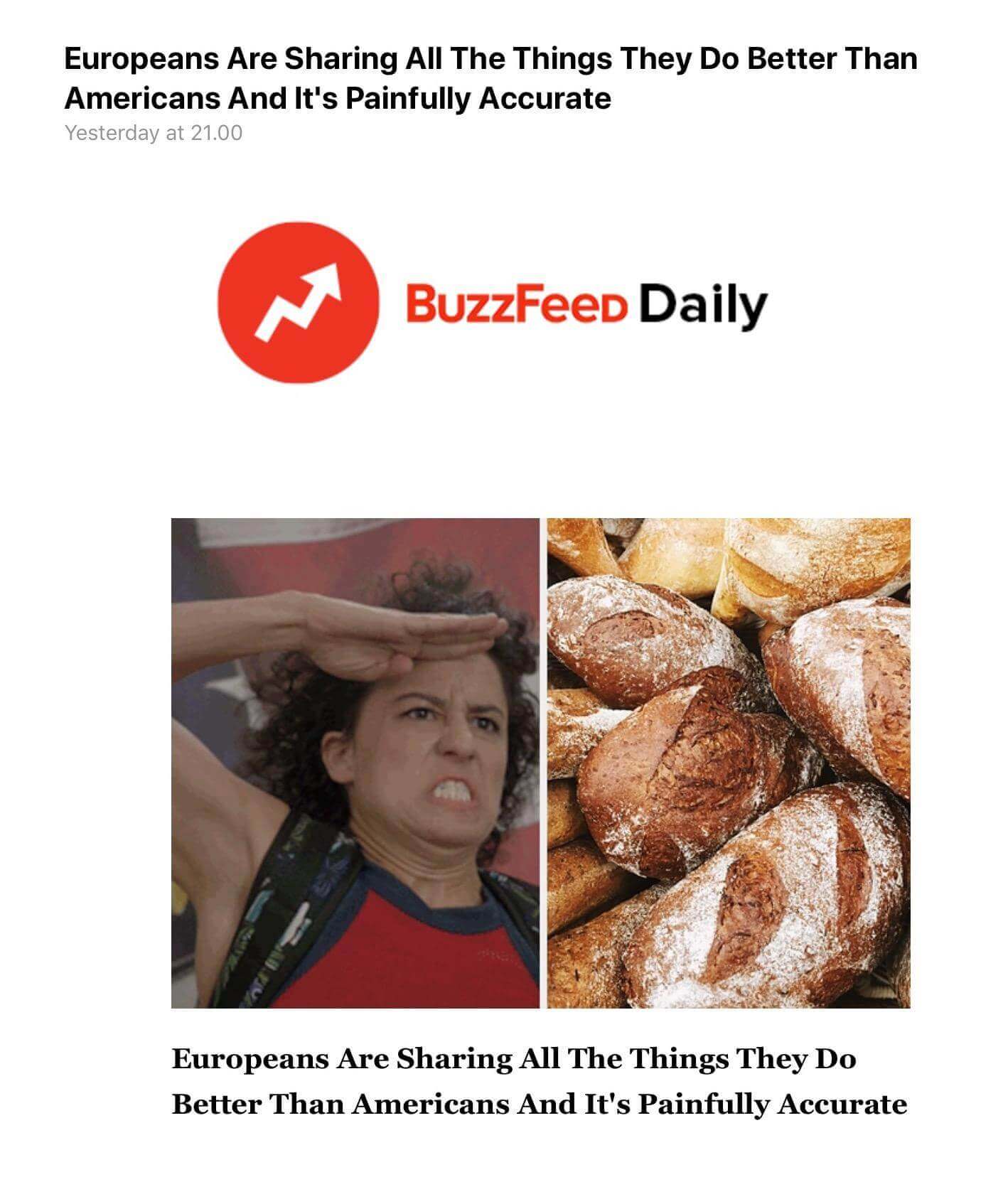 There is an important point to be made here though, because their BuzzFeed Daily newsletter superbly demonstrates how keeping subject lines and preview text tight and straight to the point makes their campaign instantly stand out against all the other material in your inbox:

Compelling eh? We'd open that mail.
4. Chewy
As we talked about earlier, an attention-grabbing subject line and the timing of the mail are only part of the success of your campaign. 
Personalisation is key to engaging your audience, and studies such as the 2013 Email Marketing Study from Experian found that personalised emails have 29% higher unique open rates and 41% higher unique click rates, generating six times higher transaction rates. 
Personalisation is all about keeping the focus on the most important member of this conversation – the reader.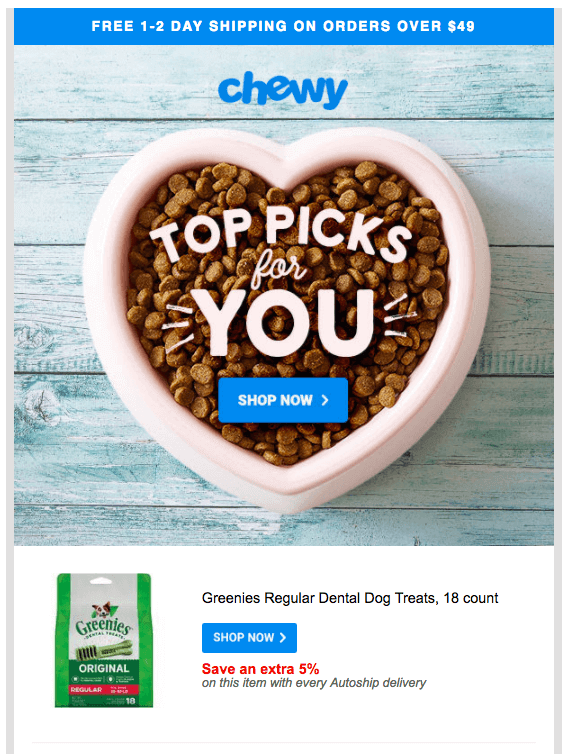 As with the Airbnb example, here the pet supplies company Chewy have used an image that is absolutely spot on for their target audience, in this case dog-lovers. With a clever but subtle emphasis on the word "you" they immediately make this mail all about the reader. 
This is backed up by the product content in the scroll being based on the users' previous purchases including clear and compelling CTAs, all of which creates the impression that Chewy are speaking personally and directly to the reader.
5. Spotify

Spotify, the market leading music streaming platform, are one of the experts when it comes to using targeted and personalised content in email marketing. 
Back at the end of 2016 (and again in 2017 and 2018), they engaged their existing users brilliantly, by sending out a highly-personalised email promoting their individually customised playlist Your Year, Wrapped. 
The real genius of this was that the playlist was made up of the user's own most played songs of the year, together with user-specific analytics showing them how they have engaged with Spotify throughout the year, helping the user learn amongst other things what their top songs, artists and genres were.
The nicest touch of all comes with the final call to action in the campaign – access to your very own, very personal playlist.
Very elegantly, Spotify have taken the importance of personalisation very much to heart with their yearly Wrapped emails, a tactic that has consistently paid very high dividends in customer retention.
6. Uber
But it's not always necessary to grab your users' attention with something as detailed as the Spotify example. Straight-talking right from the outset is also a great way to engage and motivate your audience. Take a look at this from Uber.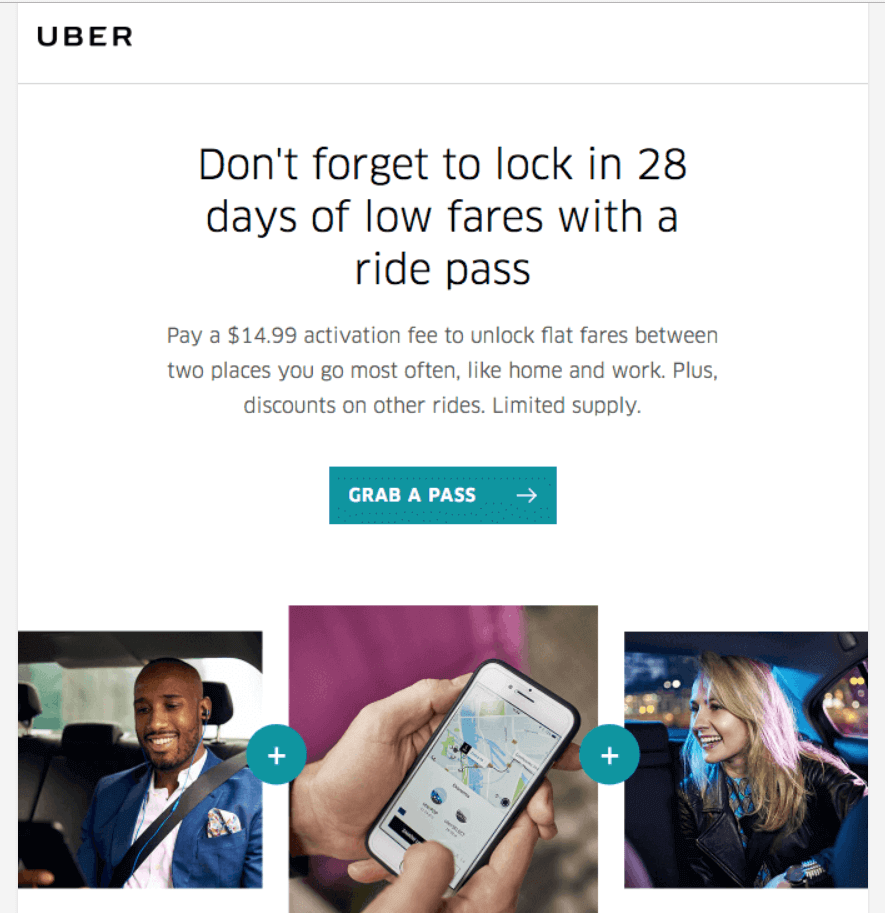 The message is crystal clear. The language is precise. The call to action totally obvious.
It speaks to the essence of the Uber ethos. You're busy, we understand, and we're here to make things simple for you.
But with the inclusion of the words "limited supply" it also cleverly nudges the reader to click that all important CTA.
Clever stuff indeed.
7. Moo

We've included this example, because, like the Grammarly example earlier, it shows how a little inventiveness from Moo can take what might otherwise seem like a fairly dry (and in this case over-populated) marketplace and make it feel both engaging and exciting, whilst simultaneously making the company's own product stand out against the opposition.
The content is light and fun, quite deliberately.
It starts with a word-play "Desk to Impress" and backs that up with very endearing imagery. 
However, it is the copy that is the real star of the piece here: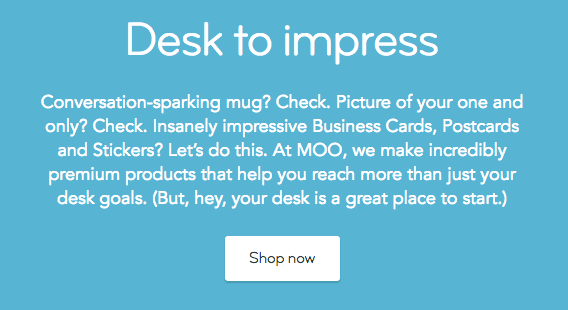 The starting gambit of:
Conversation-sparking mug? Check. Picture of your one and only? Check.
Leads disarmingly, and brilliantly, onto the point of the mail – the Moo product line content:
Insanely impressive Business Cards, Postcards and Stickers? Let's do this
Boom! 
In the most deceptively simple way, Moo have effortlessly engaged the reader, drawing them into a conversation about their own world of work that resonates with them perfectly. It's the fun and quirky content that comes over as extremely honest in this case, making the reader want to learn more.
And whilst we are singling out the copy for particular praise in this campaign, we shouldn't ignore the overall excellence of the imagery and layout that has been used as well. Particularly for the subliminal message this sends about what the reader can expect in terms of the quality of the product they will get from Moo.
Not only, but also…
These are only a handful the examples that we could draw upon for inspiration, and we are constantly scouting for good examples to share in updates and later articles. 
But could one of your campaigns be included as an example of excellence?
Go on, impress us!
Over to you…