In order to follow your design style, you can design your own buttons in the system. Once you have made a button, you can save it so that you always have it for later use. In this way, you will get a uniform design and you do not need to spend time to design the button.
Design options for buttons
Drag our default button into your campaign. The moment you place your button where you want to have it, you will get design options in the menu to the right. From here you can change the following:
Link your button anywhere you want it
Change the font colour or the background colour of the button
Change the font type or size. Also remember to change the font size on the mobile view
Should the text be bold or normal
Define the height of the button
Should the button beleft, right or centered in your module
Round the corners just as little or as much as you want
Place a frame around the button
If you need more space, adjust the width of the button
Allow some space for the button by usingpadding. All the way around the button or maybe only on some sides.
You can change the actual text on the button in the builder by marking the text and changing it. Now you have the perfect button that fits your design and your needs.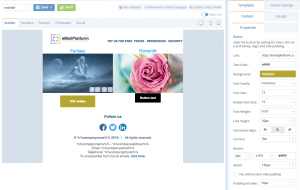 Custom designed button vs. standard button
Save the button so that you always have it
You can save a button you have designed at any time so you always have it. You do not need to design the button again every time you need it. Put the cursor on the button and find the small corresponding menu. From here there is a Save option. You will then always find the button in the "Design" tab on the right, under "My buttons".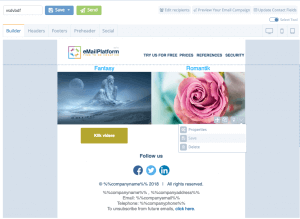 Save your button, so you can easily use it again without having to design
Watch the video about how to design a button.
March 2019