MarketingPlatform allows seamless integration with Trustpilot – an online review platform. If collecting reviews from your customers is an important part of your business, and you already have an active Trustpilot account, there's no reason why you can't use it in MarketingPlatform.
As the integration is done with the list where your subscribers are stored, you can set it up either when adding a new list or when editing an existing list. In both cases, you need the Trustpilot Integration button placed right under the Company Details section.

Once you click on the button, a window will pop up requesting that you fill in the Trustpilot site, your domain name, and the secret key (from your Trustpilot account). Confirm the details with 'OK' and your list is immediately integrated with your Trustpilot account.

Now, you can start inviting your customers to leave verified reviews about your business, be it service, product, or location reviews.
Given that invitation will be sent via email, it's necessary that you include a direct link to your Trustpilot account in your newsletter(s). Simply mark the text to be linked then click on the Link button in the CK editor that will appear just above and select Trustpilot from the dropdown menu (as shown in the image below).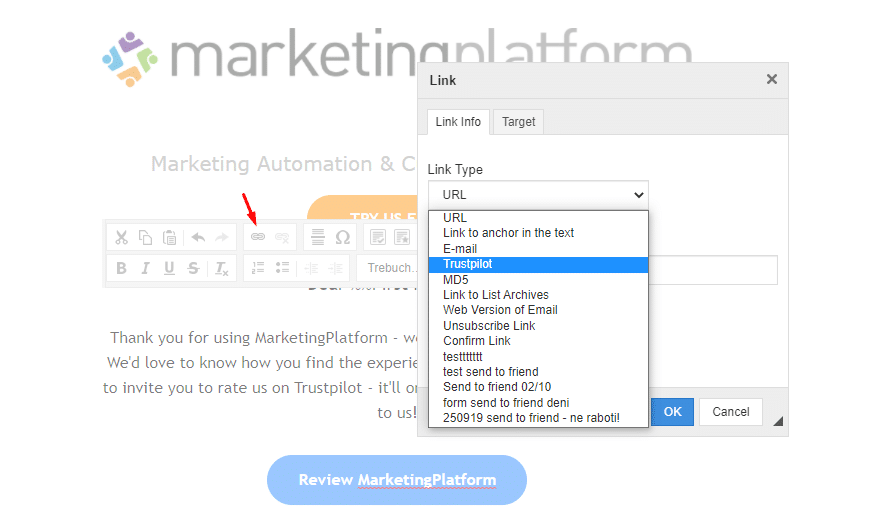 Once you've selected Trustpilot, you need to select the list your account is integrated with, the custom name field, and the custom reference number, which is optional. Press OK and your Trustpilot invitation is ready.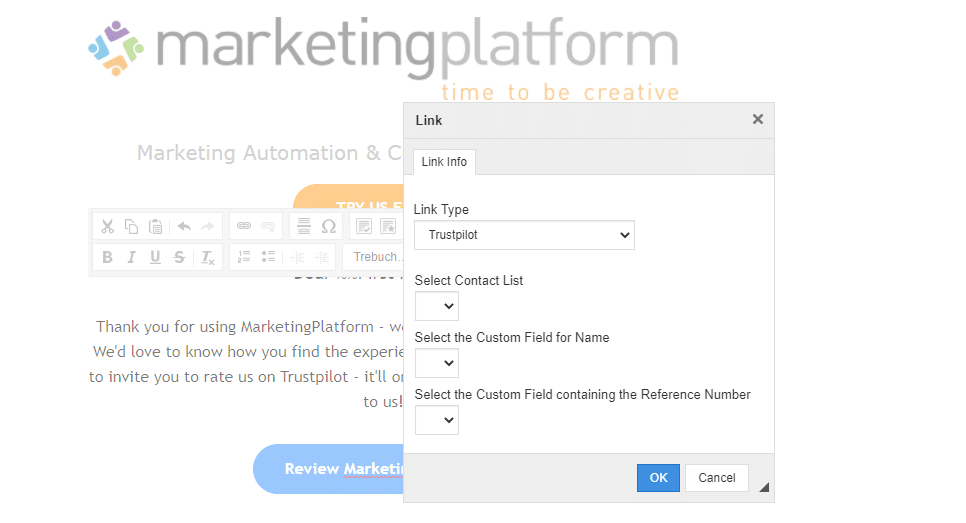 In addition, you can opt for including a dynamic Trustpilot link in the footer of your campaigns not only to build customer confidence but also to allow subscribers direct reviewing access to your account.