Marketing Automation is a fantastic tool that can help you bring your email marketing to a whole new level. By using the software, you can automatize parts of your marketing process. The days, where you only made a simple, static newsletter and sent it to the customers once a week after spending 5 hours in planning and executing the newsletter, are gone.
Marketing Automation may sound complicated, but in reality, the basic principle is quite simple: With Marketing Automation, you can set up automated flows that will hit your customers or leads at the right times. And one of the best things about it, is that when you have set up your flows, the automation part will do the rest for you. This means that you constantly will generate more value for your business without actually doing anything.
It doesn't sound stupid, does it?
Marketing Automation can be used at many different stages of your business and requires a bit of preparation. It takes a little time to find out which flows you can set up which will give you the greatest benefit. And over time, you will probably find out other exciting flows that you can set up in extension or as a replacement for the already existing ones.
Whether your business is B2C, B2B, a public institution or something fourth, Marketing Automation can be integrated into your marketing with great benefit.
Below, Marketing Automation examples follow of how you can use Marketing Automation flows in the various business types.
Marketing Automation examples B2C
1. Welcome email
One of the most used B2C Marketing Automation flows is the one where you set up a series of welcome emails.
When people have just signed up for your newsletter, it is about getting the communication started right away, because at this point, you know that the recipient of your emails is committed and would like to hear from you. You will therefore always experience higher open rate, click through rate and conversion rate at this time.
At this point, you have many good opportunities to get the person further warmed up and get that person converted into a customer. Create a welcome flow where you offer the person free shipping or 10% on first purchase. You can also use the opportunity to send a number of educational emails to the customer, where you introduce your various products, provide detailed product information, and show how they can be used.
2. VIP and reward of loyal customers
You should do something extra for your most loyal customers. Therefore, set up a Marketing Automation flow that rewards the customers who have bought X number of times within a given period of time, or who have bought for more than X amount of money in a given period. Give them access to sales before other customers, or give them 20% on the category where they usually purchase their products from. When you introduce a new brand on the webshop, you can make sure that the VIP customers get the X number of percent off the new brand if they want to test it.
Examples of scenarios that may trigger VIP status:
– Purchased for X amount of money
– Has bought X number of times on the webshop
– Has opened and clicked on from your newsletters
– Has bought X number of times via the newsletter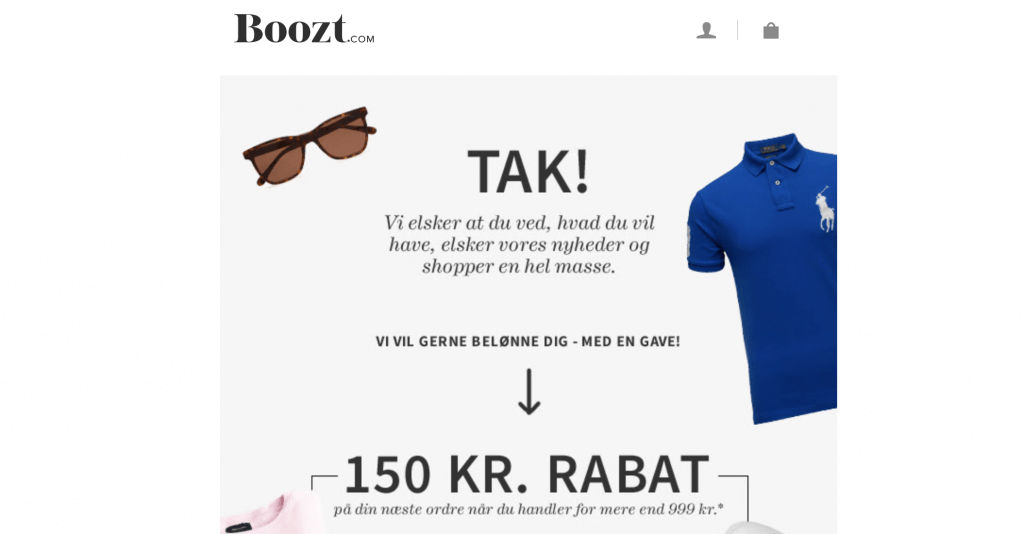 3. Birthday, anniversary or something else
Set up a Marketing Automation flow that automatically sends a birthday greeting to the person on your contact list. Give a voucher for a free gift, give a 20% discount or offer free shipping. The possibilities are many.
You can also choose to celebrate "anniversary" with the customer, where on the one-year day after the customer's first purchase, you automatically send an email with a discount for the next purchase.
4. Follow-up on sale
Set up a flow where you automatically send an email to a customer when it is about time to buy again, or when a new model/version of a product that the customer has bought has come.
Examples of flows:
– Products such as hygiene products, shaving equipment, coffee, tea, wine etc. is usually something that one needs to re-buy after a while. Make sure that the customer is automatically reminded about this with links to the products that he or she usually buys
– The customer has bought an air conditioning system, and it is time for the service or the filter should be replaced
– The car workshop automatically sends an email when it is about to be a summer holiday, and the car should be checked before the trip to the south
– The customer has purchased a Samsung Galaxy S9 mobile phone and now the Galaxy S10 can be pre-ordered
– The customer has bought a mobile phone, and now a new, lightning-fast wireless charger has come for this model
5. Warming up cold customers
One of the most important Marketing Automation B2C flows you should set up, is a targeting of customers who have not made a purchase for a long time. Obtaining new customers is always very expensive, and therefore it is important to keep your existing customers as long as possible. Send a "We have not heard from you for a long time" or "We miss you" email and offer a hatch discount to get them back as active customers again.
6. Ambassador emails
Make a flow where the customer receives an email 7 days after a purchase, asking for the experience of the purchase. Ask the customer to recommend you, on, for example, Trustpilot, Pricerunner, Facebook or Google. Or ask the customer if he or she wants to recommend you to a friend and get a subsequent reward.
7. Abandoned baskets and retargeting
Set up a flow that will be triggered if people have left a full shopping basket on the webshop. Send an email that shows the products that the customer has left in the basket. If the customer has not responded after a few days, you can resend the email and add a discount coupon. Remember to also use other retargeting options in your marketing mix such as Google Ads, Facebook Ads etc.

Marketing Automation examples B2B
1. Visits to important pages
You always have web pages on a website that have a higher value than others, and that can indicate that the visitor is about to become a customer. If this is not followed up, the potential customer may be lost forever. If the visitor is looking at the pages with prices or some very specific product pages, you can set up a flow that will further explain these products and how they can give value to the potential customer.
2. Onboarding of new customers
For B2B companies, getting leads that can be converted to customers is crucial. That can be a difficult process; One thing is even getting leads to sign up on the website, by ways of an online form. The next is to convert them into customers.
Here is Marketing Automation a very valuable tool. Make a flow where the lead will get sent a number of emails, where it is explained how your product works, and where there are examples of how you, as a customer, get the best out of your product – and how the customer can use the product himself for his own customers.
The clear advantage here is that you do not necessarily have to dedicate time making product presentations, and at the same time, it is easier for you to reach the customers who do not want a personal inquiry from your company, but would rather like to snoop around on their own.
3. Lead-Nurturing
The goal here is to 'nurture' or 'nuzzle' the potential customer. There are several ways to do this, but one of the popular methods is to make articles about the industry you are in with how to guides or the like, that causes the lead to perceive you as a "thought leader" – so that you and your company are the ones who 'have control over the cases'. This gives trust and credibility and can ultimately be what converts the lead into a customer.
As the process progresses, and you gain more and more credibility towards the lead, you begin to incorporate increasingly more sales-based material.
4. Churn Rate reduction
For companies with subscription solutions, including SaaS (Software as a Service) companies, it is incredibly important to retain the customers as long as possible. They constitute the entire basis of existence, and it is therefore of course vital to keep as many customers as possible. This is known as the concept of customer-churn – how many customers leave the business. Of course, it is about having as low churn as possible.
There can be many reasons why a customer wants to withdraw from a subscription scheme. Maybe they don't use the product enough, maybe they can't figure out how to use it, maybe they think the product has become too expensive or maybe their focus has shifted to other parts of the business. Regardless, you are naturally interested in retaining all these customers.
Set up a Marketing Automation flow where you ask why they want to terminate their subscription, in order to see if you can keep them.
To also ensure a low churn rate, you should do nurturing of your customers so that you ensure that the customers have you fresh in their memory and constantly feel secure in the choice of your product.
5. Reward of brand-ambassadors
If you can get existing customers to recommend your products to their circle, it is of very high value to your business. Studies have repeatedly shown that recommendations from friends, families or colleagues have a very high credibility.
Therefore, make a recommendation option in your emails and create a flow where you automatically reward those who recommend your business to their other networks.
In addition, make your customers aware that if they recommend your business to others in their network, they will be rewarded with a discount code or similar.
Try MarketingPlatform for free for 14 days
The trial period is free, completely non-binding and expires after 14 days if you do not wish to continue.
When you sign up, you will also receive our educational flow via a series of emails along with our newsletter with regular updates.