If your domain is not properly set up and ready to send emails from MarketingPlatform, you will see the following error message on the dashboard in MarketingPlatform: 'Domain name has not been set up successfully. See details'.
We check 4 points on your domain – Active, MX, SPF and DKIM – to see whether they are correctly set up to send emails with MarketingPlatform.

Active


We check that the domain is active and exists. It is important that you own the domain, and that it is an active domain, so that it can be used to send emails.

MX


This record indicates whether a mail-server exists on the domain. It is important that email addresses also exist on the domain that you want to send from, and that the address that you will use also exists on the mail-server.

SPF


This record indicates which systems/ip addresses are authorized email senders from your domain (used, among other things, to prevent phishing). It is important that you have this setup on your domain and that MarketingPlatform is part of this (include:mailmailmail.net).

DKIM


This record is set up to verify all emails sent from your domain. When we send emails on behalf of your domain, we use the same DKIM that is set up on your domain, and is therefore a verified sender. This helps prevent, among other things, email spoofing.
SPF
If there is no SPF record, or MarketingPlatform is not part of your current SPF record, you will receive an error message on this. If you click the "info" button, you will see an example of your new SPF record.
A typical SPF record value looks like shown on the picture above.
"v=spf1 a mx include:spf.unoeuro.com include:mailmailmail.net -all"
A includes your A record, so that your website is approved to send emails from your domain.

MX includes your mail-server.

include:mailmailmail.net aproves

MarketingPlatform

as the sender of this domain.
If you have multiple systems that are being used for sending emails, it is important that you include their SPF in order to approve these systems as senders.
You will find all your DNS records in the DNS (Domain) administration for your domain. If an SPF record does not already exist, you need to create a new TXT-record and insert your specific SPF value.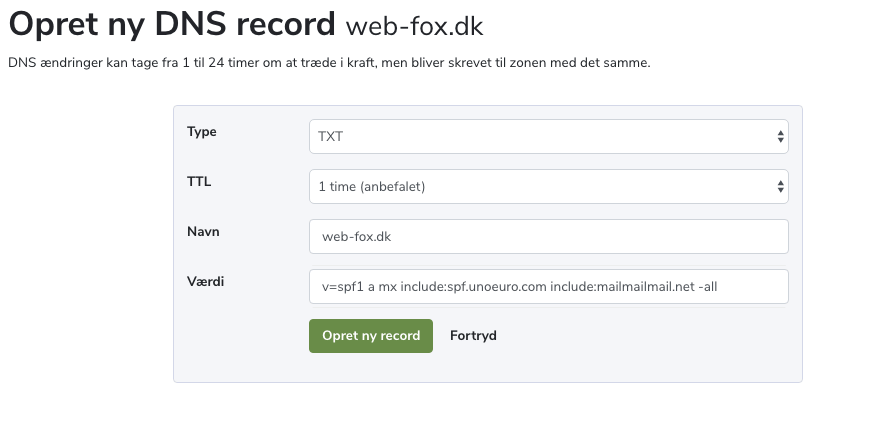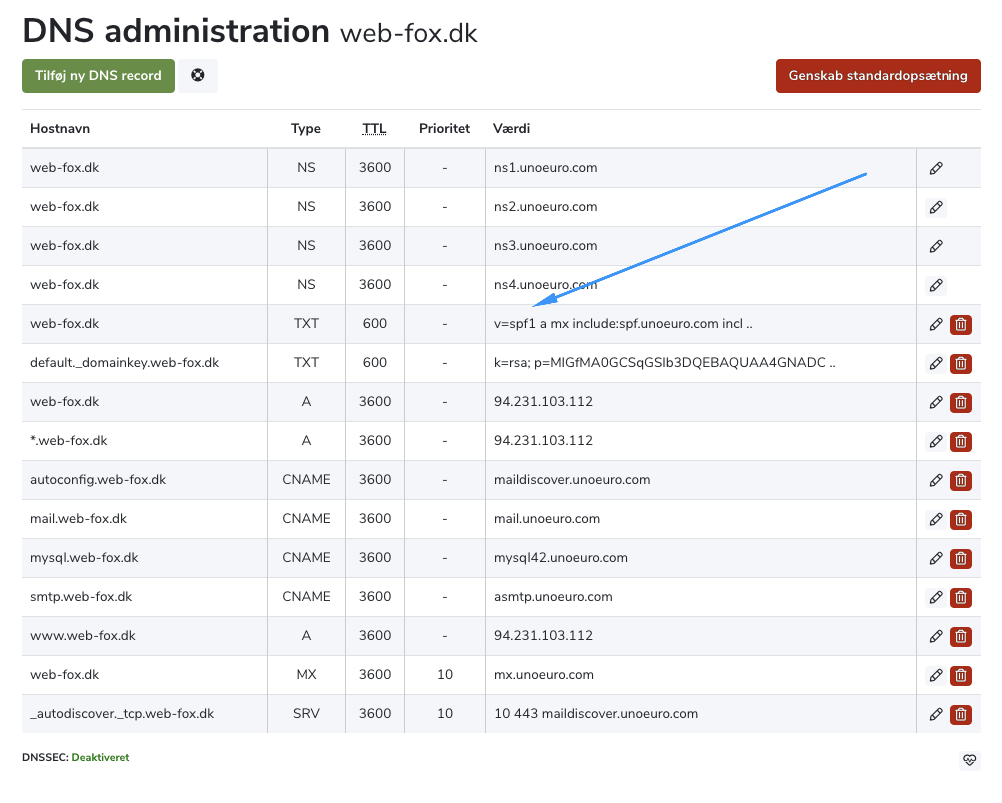 DKIM
If there is no DKIM for MarketingPlatform, you will receive an error message on this. If you click on the "info" button, you will get the option to create a DKIM value for your domain.


DKIM also needs to be created as a TXT-record in your DNS administration. However, it is important to note that the domain/hostname in this setup contains nothing but just the domain – most often you will always see emp._domainkey. in front of your domain when DKIM is used for MarketingPlatform.
If you would like to know more about SPF and DKIM, you can read our article about the topic.