You can easily upload your own images to MarketingPlatform, so that you can use in your campaigns. You can also use one of our integrations for image banks such as Pexels, Pixabay, Iconfinder etc.
Upload your images
Once you have inserted an image content element into your campaign, you can easily upload images by clicking on "Add". From here, you can upload your images in two ways. You can either download the image from your website or shop by copying the image's URL. You can also download the image directly from your own desk either via the path finder or drag and drop.
Once the image is loaded and you can see it in your image bank, click on it, in order to insert it into the campaign.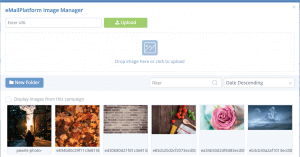 Upload your images via URL or directly from your desk 
Edit your images
You can edit different things on your images after you have uploaded them to MarketingPlatform. Via "Edit" you get the opportunity to:
Resize: Change the size of the image
Crop: Crop the image so that you only get the most important part
Flip: Flip the image horizontally or vertically
Rotate: Rotate the image to the right or left
Desaturate: Change the saturation of the image to make it darker/brighter
After editing, save the image as a new image – without overwriting the original. Additionally, in case, you need more refined image edits, you can use a free online image editor, and after you are done upload the image to the platform.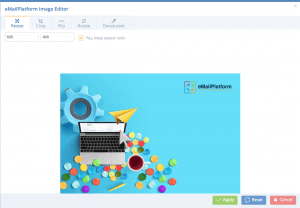 Edit your images easily and quickly in the editor
Inside the actual builder, you also have the opportunity to change the image's view. You can use padding to create a space to all other elements and you can define the size of the image. You can insert the mobile view of the image, how wide it should be displayed. If in doubt, use our predefined settings.
If you have several pictures next to each other that must have the same dimensions, you can use "Crop all images in grid by height". It will help you to easily and quickly get all your images cropped so that they are perfect and sharp in your newsletter.
You can take a closer look at uploading pictures and our image editing tool in the video here:
March 2019