2-way SMS is a web messaging system that allows businesses to engage with their customers by both sending and receiving SMS messages. It is different from one-way SMS or outbound messaging, which only allows users to send messages, normally in the form of notifications, alerts or reminders.
2-way SMS messaging relies on the use of a dedicated number or short code, also known as virtual mobile number – unique per country, and complete solutions or APIs.
In MarketingPlatform this feature can be used in 2 types of 2-way SMS flow:
Subscribe, where customers can sign up by replying with a key-tag, and
Unsubscribe, where they can reply with a key-tag to unsubscribe.
It's important to know that only one type of flow is allowed per list, and one key-tag per flow.
How to create a 2-way SMS
2-way SMS can be accessed through SMS CAMPAIGNS in the menu on the left.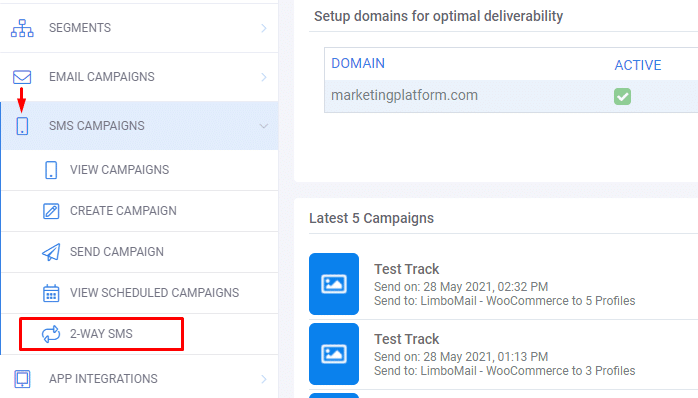 The 2-way SMS button will take you to the next page, where you can Filter 2-way SMS based on type in the left-hand panel, or Create 2-way SMS on the right.

Filtering previously created 2-way SMS by type – All, Subscribe and Unsubscribe, will display all active and inactive flows on the right, where you can choose to activate/deactivate them by clicking on the Active/Inactive button. 

Optionally, you can Edit or Delete the 2-way SMS by selecting one of the actions on the right.

If you choose the second option, i.e. Create 2-way SMS, the first step would be to name it. Note that this name is for your reference only and won't be visible to those receiving the message.

The next step is to Select a List – this would be the list the flow is created for and the Subscription Type.

Next, you can either select a previously used key-tag or create a new one. Note that each flow requires a unique key-tag so you can only choose key-tags from inactive or deleted flows. Any key-tag used in an active flow won't be available for selection.

After selecting the language for your SMS, you can finally create the message in the SMS builder. The message body will be located in the left-hand panel, where default text messages: Thank you for subscribing./You have been unsubscribed.' will appear for the Subscription and Unsubscription flows respectively.
If, however, you want to personalise or customise your message, you can easily choose from all the available data fields on that list – right-hand panel. Simply drag and drop any field you need – general or custom, into your message.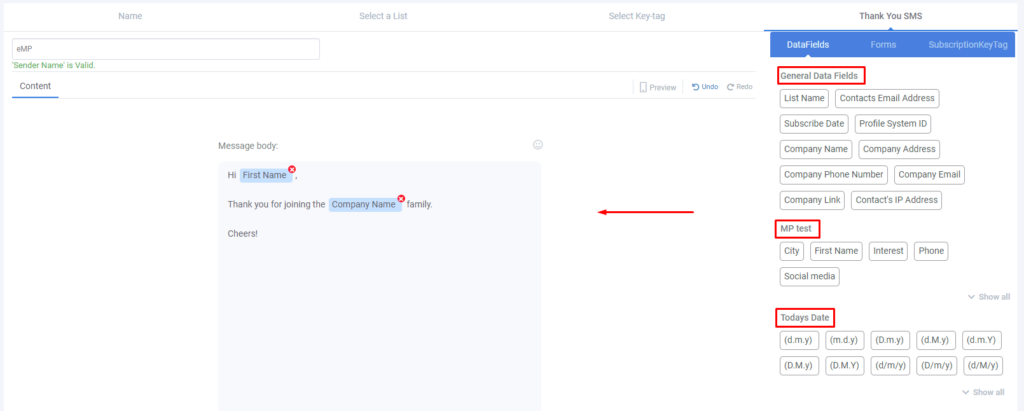 The last step is to either Save & Activate the 2-way SMS for immediate activation, or to just Save it now, and activate it later.