Tools for newsletters
With the right tools the creation of newsletters can make your work significantly easier, more efficient and often much more fun. Here are some tools which can help you with the work, so you have more time to focus on creating the right content. Most of the following tools are free to use, while several of them have PRO versions that cost an amount to use.
With the right tools the creation of newsletters can make your work significantly easier, more efficient and often much more fun
1. Canva
One of the most popular graphical tools out there is Canva, which can be used for a variety of things. Most of all, the toll is extra useful for helping to create nice graphics and banners, so people without graphical knowledge can make a nice content.
With Canva you can choose the size of the graphic you would like, or you can choose from a myriad of predefined sizes, for example, for Facebook use. There is a wide range of free PowerPoint templates, grids, frames, shapes, icons, diagrams, backgrounds, illustrations and much more that you just need to drag' n 'drop into the graphics, and in just a few seconds you have a really nice graphic ready.
It is easy to make teams in Canva, and therefore you can share graphics with the rest of the team for approval or further editing as you create your newsletters, graphics for social media etc.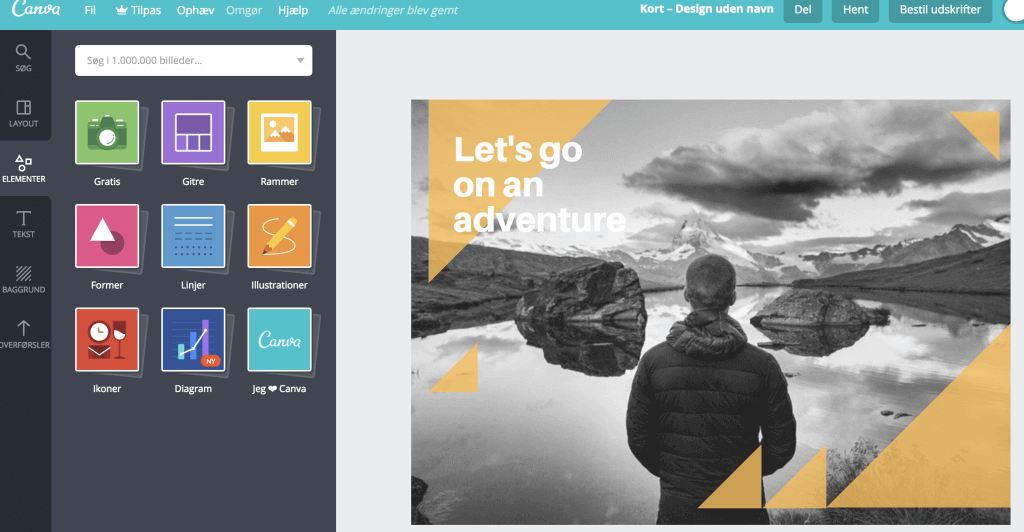 2. Canva Font Combinations
If you want to create a nice graphic with several different fonts that perfectly support each other, Canva's Font Combinations (formerly known as Type Genius) is a good tool. You choose the font that should be the font base for your graphics, and the tool gives suggestions for the fonts that best support your font base.
3. ColorZilla
Finding the exact color you want to use can sometimes be a challenge. You may have seen a nice color on a website and would like to copy it, but what color is it really?
Here you can use a so-called extension for your browser if you use Google Chrome. It is possible to install many different types of plugins or extensions to your Chrome browser, and there are many really useful tools for creating newsletters.
With ColorZilla installed in your browser, you can hold your mouse over an item and a small toolbar will then give you the color code of the color you want. You can then copy and use this in your graphics program like Photoshop, Canva or other.
There are several possible alternatives to ColorZilla, including EyeDropper which has many of the same features, but stands out in the design and has a few alternative features.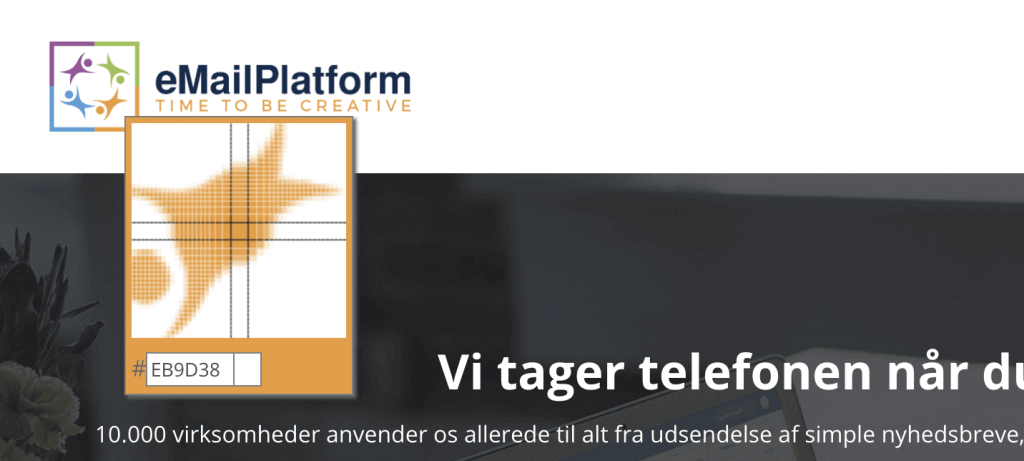 4. Colormind
Would you like to make beautiful newsletters but perhaps you are not a born graphic designer? Colormind is a great help. Colormind is a tool that helps you find a palette of colours that match.
Colormind can either randomly compose color palettes if you lack inspiration, or you can upload an image, where the tool itself draws colors out of the image, puts together a color palette and sets the color codes for you. A really handy little tool!
A nice alternative to Colormind is Color Hunt, which has plenty of color palettes to choose from, but lacks the ability to upload pictures. Other options areAdobe Color CC and Palotton.
5. Pixlr Editor
Do you need a graphics program to create graphics or banners but won't pay the expensive Adobe Photoshop license? Pixlr er is a small smart graphics application that runs through the browser and can be part of Chrome Apps, or you can use it as a mobile app. It is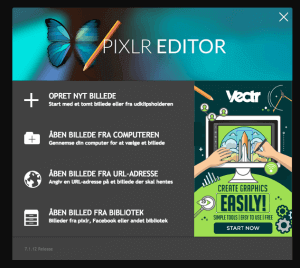 easy and quick to create custom graphics and you can save in any common format such as GIF, JPG and PNG. You can create a new image, open image from the computer or the web, or you can open an image from a library like Facebook.
The actual interface leans very much on what you know from Adobe Photoshop, so it does not take long to get into the use of the small fix program.
The program is free to use, and if you need some extra features, there is a paid Pro version now, where you can choose among a very large selection of PSD templates and work further from these and therefore save time.
6. PhotoPea
Another alternative to Adobe Photoshop or Pixlr or Gimp is PhotoPea. It is also a free online graphic program. You can purchase a version where you can avoid advertising, but besides this, the free version works really well with all the features (e.g., background removal).
PhotoPea reminds a lot about the interface that one can know from Pixlr. One of the advantages that PhotoPea has over Pixlr is that PhotoPea can open Photoshop (PSD) files that Pixlr does not support at the time of writing. Therefore, PhotoPea can be used for eg. to edit in text layers in PSD files – and you can even save the file again in PSD format.
Other tools that can be outlined in PhotoPea, that many of the other free graphic programs are missing, are Spot Healing Brush, Quick Selection, Refine Edge Tool and Liquify Filter.
7. BeFunky
BeFunky is a graphic program where you can make your images beautiful with filters and other features. It is a small, free program, where you get a lot of opportunities to work on your pictures and graphics by creating effects, frames, textures and much more. The interface is very straightforward to use, so it should be easy for both experienced and inexperienced people to use.
8. Da Button Factory
Here you get every possible opportunity to make exactly the buttons you want. With Da Button Factory you can choose from a myriad of fonts, backgrounds and shadows. One small note is that the buttons can only be downloaded as graphics and not as the HTML code.
9. Croppola
Do you have a big image and want to save a part of it, or are you also in doubt about which part of the image is best for cutting? In that case, Croppola solution is the right tool for you. Croppola uses an intelligent algorithm to calculate which part of the image is the best to cut.
If you are not satisfied with the result the algorithm gives you, you can manually specify which part of the image you want to cut and save.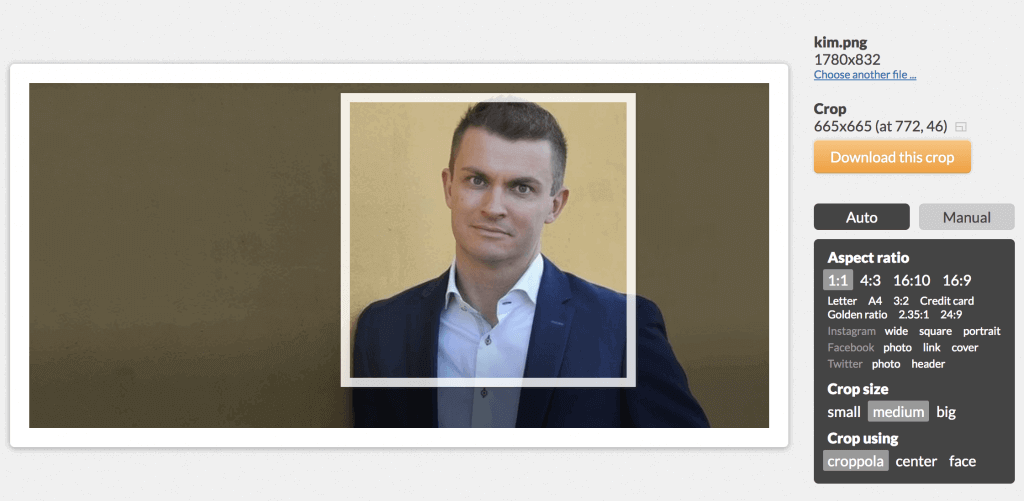 10. Online Image Splitter
With the small program Online Image Splitter you can divide larger graphics into smaller chunks, so that they do not fill so much. This can be an advantage so that you do not send out newsletters with too heavy graphics that risk ending in SPAM.
11. Pixabay, Pexels og Iconfinder
Are you missing cool graphics for your newsletter that you can use freely? You probably already know services like Shutterstock or Stockphoto, but here you have to pay for the use of the graphics. But withPixabay, Pexels and Iconfinder you can find millions of images and use for free. Iconfinder alone has over 2.500.000 icons available. Perfect for the newsletter.
At MarketingPlatform, we have integrated these 3 services directly into the platform, and therefore, when you make your newsletter, you can simply drag and drop images directly from these services and into your newsletter.

12. Tiny PNG
When you send out newsletters, you want the graphics made as small as possible. Partly in order to load the graphics in the newsletter as fast as possible, partly to avoid the newsletter ending up in SPAM. If you use PNG images that have the advantage of using transparent background, you can reduce the size of your PNG file quite drastically with theTiny PNG file compression tool.
It is about finding the best solution where the picture gets a suitable small file size and, at the same time, does not compromise too much with the quality of the picture, so try to get the best possible result.
13. Awesome Screenshot
Would you like to make a graphic explanation in your newsletter where you, for example, with arrow and frame draw attention to a new feature on your website, then you can use the Awesome Screenshot tool, which acts as a browser extension for either Google Chrome or Firefox. Awesome Screenshot is a great alternative to the otherwise well-functioning Jing/Screencast, which can often be slow to work with when uploading an image.
With Awesome Screenshot you can take a screenshot and on this paint, write, make arrows, frame and much else. You can either save this as a file, or you can upload an image directly to Awesome Screenshot, so you get a link that you can share with everyone.
There is another stand-alone program called Awesome Screenshot: Screen Video Recorder, where you can record video sequences from your screen. It is really a handy tool, for example, to explain to customers how to use your website, explain a problem, make a tutorial or something else.
The alternative Jing has the same smart feature with video recording but this is in line with the screenshot version of the program, and therefore you do not need to use 2 different programs. However, Jing can sometimes be a bit unstable compared to the upload function.
14. WhatFont
Have you ever seen a nice font and thought that you would like to use the same one? Or maybe you made a graphic and you cannot remember which font you used. WhatFont is an extension to your Chrome browser that can be installed for free. With this you can, by holding the mouse over a font, get the font recognition tool, if it is a TypeKit or Google Font type.
A good alternative is a desktop version of the same program called WhatTheFont. Here you can upload an image that contains the font you would like to recognize, after which the tool tries to find the name of the font. If the tool cannot help you, there is a forum where you can try to get help from one of the many font geeks out there.
15. DaFont
Are you missing some more fonts to choose from when you make graphics for the newsletter? At DaFont (or 1001 Free Fonts and Font Squirrel) you can get a huge selection of different fonts that are divided into different categories, and therefore, it is easy to find the font you need.
Many of these fonts are free to use, while others require that you give a donation to the person who created the font.
16. Really Good Emails
If you lack inspiration for your newsletter, there is great help to download both in our article here as well as at Really Good Emails, where they have collected examples of email templates. Here, various templates are divided into categories, so you can for example, choose newsletter templates that are art, books, kids, sports or much, much more. Really Good Emails has a search function in which you can search for the topics that are relevant for the newsletter.
The service is free to use.
17. Sendtric
If you have for example a sale or a kind of an offer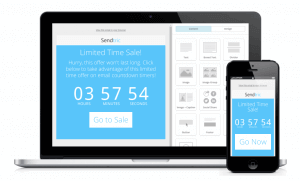 rt,and you would like to boost the Click-Through rate from your newsletter greatly, then you should consider using a countdown in the newsletter that automatically counts down until the offer expires. This is possible with Sendtric as a free service. You simply fill in a simple form, generate the code and then insert the code in the newsletter.
Sendtric is available in a free version, but if you would like to have the opportunity to customize eg. fonts, colors and pictures, you need to pay a monthly subscription, however, at the very affordable end, where prices at the time of writing start at $9.
18. SurveyMonkey
A very well-known program in the digital world is SurveyMonkey. Use this smart application to get the answers you need. Often, analytic tools like Google Analytics can answer a number of questions by analyzing people's behaviors, but there are a number of issues that you cannot interpret from your analysis tool. SurveyMonkey is here absolutely brilliant for the purpose.
Collecting information from customers and potential customers can be incredibly valuable and can bring many positive things such as customer retention, return rate reduction, revenue growth and more. Use it for questions about customer satisfaction, customer loyalty, testing concepts and ideas and much more. Use the newsletter as a great opportunity to get valuable information out of your existing customers and others on your newsletter list.
It is free to register and there is a PRO version which starts at 39 euro per month.
19. Grammarly
If you would like to have a spelling checker on your text and be able to use your own personal dictionary, then Grammarly is a good tool for you. With Grammarly, you can enable or disable on favorite websites, save a personal dictionary, save and access the data from any computer, and get weekly statistics and tips on how to write.
The tool can be used in a free version, and if you need extended features, you can access these for $12 a month. NOTE! At the time of writing, Grammarly only supports different variations of the English language.
20. Zapier
Zapier makes it easy to exchange data. With Zapier, you can integrate data from for example, Facebook Lead Ads and get them sent directly to their Email Marketing platform. At MarketingPlatform, we have made a direct integration with Zapier, and therefore you get a smooth integration and can start targeting your newsletters with your collected Facebook contacts shortly after they are collected. Zapier is not only limited to using Facebook Lead Ads, but can be used with different applications and systems such as Slack, Salesforce, PayPal and many more.
You also have the option of installing Zapier as an extension to your Chrome browser, so you can easily create Zapier workflows directly from your toolbar.
At the time of writing, Zapier has both a free, simple solution, and if you have slightly more extended needs, prices start from $20 a month.

21. LeadsBridge
Do you work with online marketing and use Facebook Ads, Google Ads (Formerly Google Adwords) or LinkedIn, you know that remarketing and lookalike audiences are very important for achieving maximum impact.
One of the advantages is that you can upload email addresses from, for example, existing customers for these platforms and target them or you can create lookalike groups based on the same. However, it can be a somewhat comprehensive process to manually maintain this and upload sheets of email addresses.
With LeadsBridge you can create a bridge between your email marketing system and one of these 3 platforms, so that email addresses are automatically pushed out and your target groups dynamically updated. It is extremely useful. Use it also to exclude people from your audience, for example, if you want to find new customers or new leads for the newsletter. Therefore, you can exclude already existing customers or newsletter recipients from your marketing and save money.
The prices are very reasonable and start at $29 and the setup itself takes only a short time. You can read more about LeadsBridge here.
22. ApiX-Drive
This is an online connector, a system that will help you link different services via API and set up data transfer between them. It is a kind of digital glue that brings different products together. The platform allows users to create integrations between different types of services. Among them are mailing and SMS services, CRM, quiz makers, social networks, CMS systems, marketplaces, project managers, payment systems, instant messengers, chat bots and other products.
To use the connector, there is no need for technical knowledge and skills, you do not have to write any code. In order to integrate two services, it is enough to link their accounts on the ApiX-Drive website and select the parameters for automatic data transfer. Integration setup is carried out in a simple interface with a lot of prompts – on average, this process takes up to 15 minutes.
The free ApiX-Drive plan has 100 actions for all integrations and allows you to connect any services from the catalog without restrictions. As for paid tariffs, prices start from $19\month.To better understand how the service works, new users are provided with free trial access for 14 days.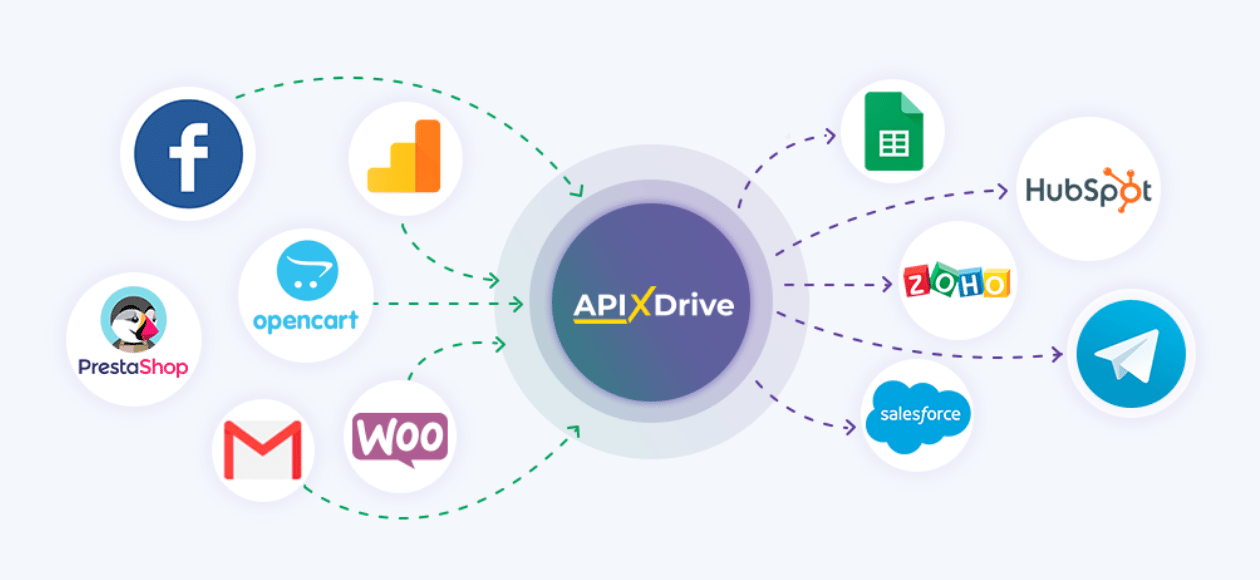 23. SaveMyLeads
Integrations are created to improve work efficiency. For example, to automate work processes and minimize routine operations.
The SaveMyLeads service allows you to create an integration between Facebook and various email marketing services without the involvement of programmers. This is a no-code solution with a simple interface, which allows you to set up the transfer of new leads from Facebook to various systems in just a few minutes. SaveMyLeads users are offered a wide range of ready-made customization templates for different systems.
SaveMyLeads is extremely easy to use. No special knowledge or special skills are required. Everyone can quickly automate work processes and increase their efficiency.
The service offers several subscription options that differ in cost and functionality. The more expensive the plan, the more features and fewer restrictions it offers. Prices start at $15/Month. Within 14 days, all functions of the service can be tried for free.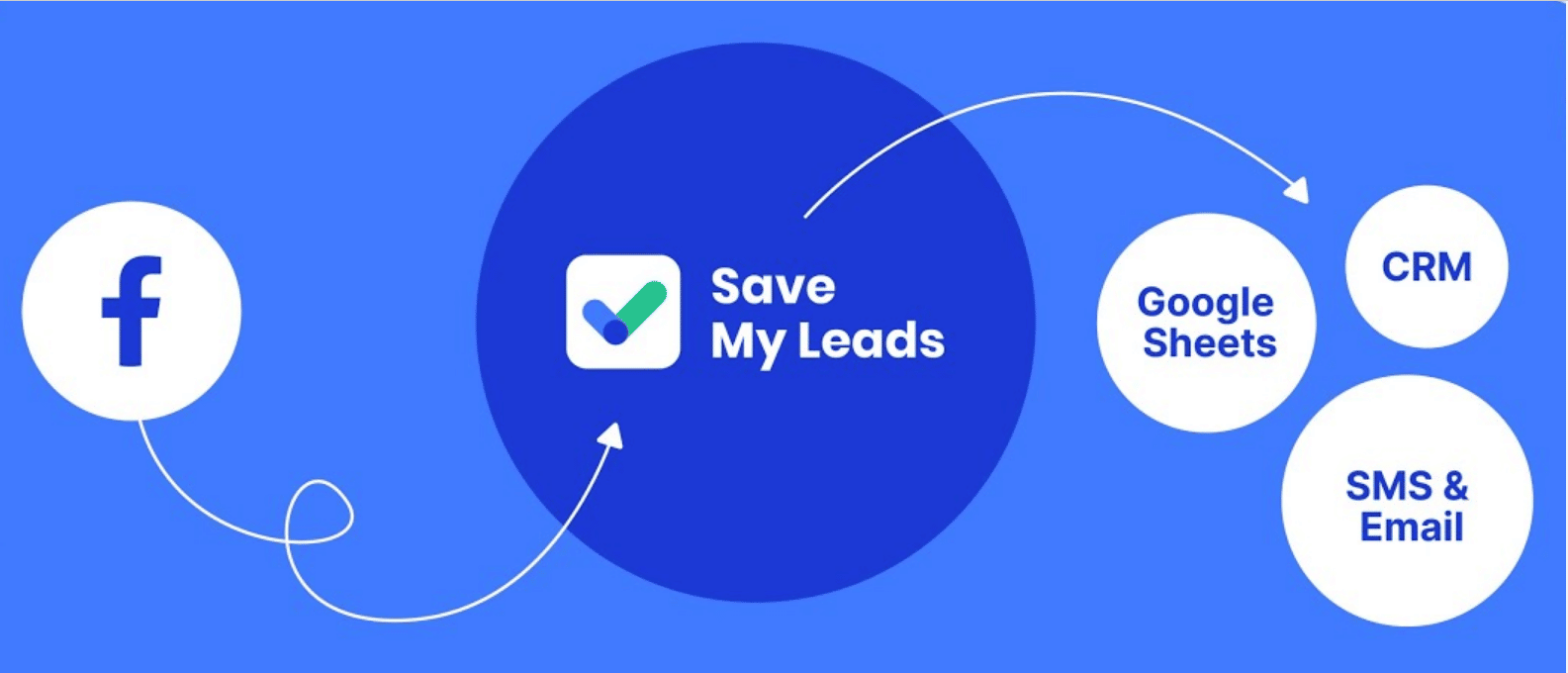 Try MarketingPlatform for free for 14 days
The trial period is free, completely non-binding and expires after 14 days if you do not wish to continue.
When you sign up, you will also receive our educational flow via a series of emails along with our newsletter with regular updates.