25 good ideas for the newsletter
Have you run out of ideas for the newsletter and do you need good ideas to breathe a little life into them? Remember that your customers expect to hear from you continuously, and it can quickly become monotonous for them with the same content. The newsletter should be something that is both rewarding for the recipient of the newsletter as well as for you, as a company. Try to constantly make new, interesting initiatives in your newsletter, and give customers a reason to receive your newsletter. There are plenty of good ideas for your newsletter, and below are the 25 ideas as an inspiration for you. Read more below: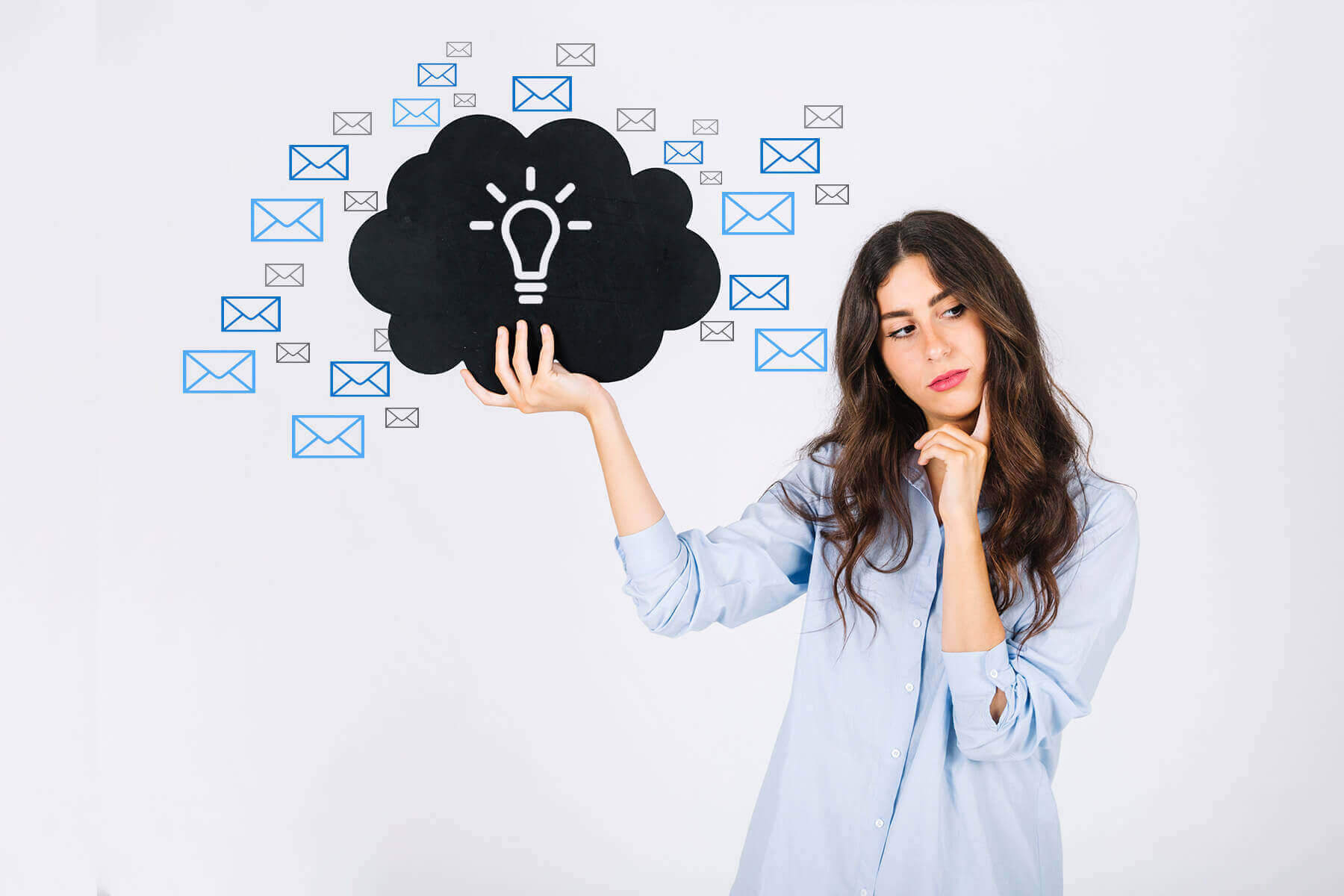 1. How-to and educational material
FPeople always want to learn more, and how-to videos have always been very popular. Create a series of tutorials for your emails – preferably supported by videos you can post on YouTube. If you would like to have more people subscribed to your newsletter, you can on your website, or your Facebook lead-ads, offer a number of educational videos to those who sign up for the newsletter.
2. Contests and giveaways
People are always keen to participate in contests and have the opportunity to win. At the same time, it is an almost safe winner to get people to open your newsletter and click on the website. Remember to also advertise your products in the contest on your website, which the newsletter recipient just can't do without, so you can also get a sale out of the visit.
3. Offer or discount codes
Has it been a long time since people bought on your website? So send an email with discount code and offer 10% if they come back and buy now. Remember that this can be set up automatically with some help of marketing automation. Is it the last day of the month and you must get the last sales? Then offer free shipping all weekend.
4. Customer reviews
Ask customers to review one or more products. Customers love to have the opportunity to give their opinion and potential customers experience great confidence in reading reviews from other customers. Share the reviews from the customers in the newsletter and, of course, also on the website.
5. Spotlight on an employee
It is not only the owner or the director of a company that is important in the communication outside. The employees give the company a human face and can make it easier for the customers to relate to you as a business. For example, try to make a series of emails, where the employees one by one choose their personal favorites among your products and explain why. Or make a "the employee of the week" where the focus is on the individual employee.
6. Success stories
Write good stories about how your products have helped your customers. This is especially useful in industries with technical and complex products.
7. Post from the owner or the director
Preferably with a more personal touch, which can help the company appear more human. Let the owner or the director wish to all recipients of the newsletter a really good summer holiday, where the owner/director at the same time tells about what he or she should do for summer vacation, possibly together with pictures of the family from last year's summer vacation – The more personal, the more effective.
8. News from the industry or the company
This can be an informative way for the customers to gain more insight into what is happening internally within the company, thereby ensure that people get the feeling that the company is constantly evolving. As an alternative, there can be news from the industry or whether there are new products on the way that they should keep an eye on.
9. New products or updates for the existing ones
Has a customer bought a specific product and is there a new version of the product on the way to the market? Remember to send information and create a possible new sale. Use it as a part of Marketing Automation, where a customer automatically receives an email, if he or she has purchased a particular product, and there comes information related to this product, for example, information about the maintenance of the product, a new variant, or some complementary products for the already purchased product.
10. Q&A / Frequently Asked Questions
Q&A stands for Questions and Answers and it is always very useful for relieving customer service. Use both Q&A in the newsletter and on the website to give greater security and understanding. Ask your customer service what questions they get most frequently and have it written down. If there is one customer who asks about something, there is quite a high probability that other customers will have the same question.
11. Solutions to problems
Have there been problems with a particular type of product, or do you get inquiries from customers about products that they have problems using or serving? Don't be afraid to address this and write solutions to the customers.
12. Damaged goods
It can be a huge challenge if you receive an amount of goods that have, to a greater or lesser extent, defects and which you cannot return. Make a fun case out of this. Let us assume you have got trousers that have a number of defects. Do not hide that these items are faulty. Write that you have received a shipment that has defects, and instead of throwing them out, there may be some who can use them for a festival, for gardening, for repairing the car or for something else creative. And of course, sell them at a reduced price. Many good examples have been seen that with the right twist, challenges like this can give a really good sale and even give extra PR.
13. Problems with selling a specific item?
Make some good/funny/crazy/informative videos where an employee presents the product in question. Make a short teaser for it in the newsletter and put the video on YouTube or Vimeo, so you, at the same time, get the focus on your other channels.
14. New brands on the website
It is quite natural to draw attention to new brands or manufacturers that you take into your range. Make sure the recipients of the newsletter get a special discount for this new brand, which will make them feel special and have an extra reason to receive your newsletter.
15. Pay attention to your other channels
Use the newsletter as a popular way to draw attention to the other activities that you are running. It can be Facebook, LinkedIn, Twitter, Youtube, Pinterest or something completely different. And of course, give the customers a good reason to follow you on these channels. Tell us that this week you have a competition running that can only be found on Facebook, or that on your Youtube channel you can see how-to videos about relevant products or a fun video from your latest Christmas lunch.
16. Team up with a partner
Do you have a good relationship with another company where your products support each other, without being direct competitors? Point out in the newsletter that a customer on your partner's website can buy product X that supports the product that the customer has bought from you. The partner should of course do the same in their newsletter. Consider in the same context that you should do Facebook advertising, to make pixel swapping with the partner, so that you can target each other's customers.
17. Sponsorships
If you are a sponsor of events, people, other companies or something else, then draw attention on it in order to get PR for your sponsorships, but also to point out that you are helping around. If there are external people who have sponsored something for you or your company, then do not hesitate to point out this.
18. Opening of new stores
If you have a physical stores and you open a new one, you should of course mention that in your newsletter, so that your customers can keep up with your success and get the experience that you are a company in constant development. In addition, it could be that the store is located close to your customers, so they can go and look. Invite them to your new store by giving them a discount code and make sure to send an SMS to the customer, when the store opens. Remember that open-rate on SMS messages are significantly higher than on regular newsletters.
19. Events and fairs
Point out if you have a specific events or fairs that you participate in. It is a unique opportunity to meet a customer face-to-face and create an even stronger relationship with the customer. Be creative in case you lack the reasons to hold events. If you have a shoe store, then make a competition in 50 meters championship in high heels; you sell a garden equipment, so make an event where it is about splitting as much firewood as possible within 2 minutes with the opportunity to win a chainsaw.
20. Webinars
Pay attention to upcoming webinars and how to sign up. Be sure to record the webinar and mention it in the newsletter, where a person can see this webinar.
21. Guest blogs
Have you written an expert post on another website, or do you have an expert to post on your website, which can help customers? Bring an excerpt from the post in the newsletter and link to the rest of the article.
22. Most popular articles, videos or questions
Make lists with "Most Popular Videos" from your YouTube channel, "Most Read Articles" from the website or most frequently asked/most popular questions.
23. Positive feedback from customers
Do not hesitate to pat yourself on the shoulder and share praise that other customers have given you or your business. It can help to give the customer extra confidence in that you are still the right company for them to do business with.
24. Loyalty program
If you have a loyalty program, make sure to regularly point that out as well as what benefits a person gets as a member of the VIP club. If you do not already have a loyalty program but lack inspiration, then use the newsletter to outreach to your customers and give them the opportunity to give input into what things they would like to have, in order to become a VIP member of your club. Customers love to be heard and have the opportunity to participate.
25. Before and after stories
Create exciting cases with a before and after situation, where a customer faced a particular challenge and how your products helped to solve this problem. A classic example is a picture of an old worn out kitchen before the purchase of a new one, and pictures of the new, beautiful kitchen, preferably supported by pictures with the work underway and how various issues were solved.
Try MarketingPlatform for free for 14 days
The trial period is free, completely non-binding and expires after 14 days if you do not wish to continue.
When you sign up, you will also receive our educational flow via a series of emails along with our newsletter with regular updates.