One of the biggest tasks for marketers is lead generation. For, without lead generation there are no customers, no sales and certainly no business. Lead generation can be a daunting exercise, especially if you are creating barriers for your customers. So, it is time to drop your guard.
For those working in areas where customers have to go through a longer decision-making process, it can be quite challenging. Therefore, creating a smooth transition where barriers are minimized or avoided should be your primary objective.
Early Connection
The smart seller wants to get a hold of the customer as early as possible in the purchase process. No doubt, as this can help influence the decision-making process. Studies have shown that customers are up to 70% through the purchase process before choosing to make contact with the seller.
By overcoming these obstacles, it will ease the burden on your lead generation. But, more importantly it will create a more desirable outcome for your customers.
Forms, Forms and More Forms
The classic online lead recovery form is no longer optimal in terms of creating sales. Where the customer must fill out a form to access, read, view or download a piece of content is a barrier in itself.
Customers want to do their own research. And by putting up barriers such as forms to be filled out, can lead to giving customers a bad impression of the company. In turn, this can be forcing customers to look for the information elsewhere. And if that place is the competitor's website, well, then they probably will not become a customer of yours.
Studies have shown that over 80% have dropped out filling out a form, even after they have started filling it out. It can be overwhelming for customers, who see it as too much work in terms of finding out the information. So, they seek elsewhere where obtaining the information is far more accessible. They also see through the fact that they will probably be contacted by a salesperson as soon as they have filled out the form.
Most customers will want to obtain the information prior to speaking to someone. So, if you're creating barriers and forcing them to leave your website, chances are they will not return.
That may not be a problem for the market-leading competitor, which spends a lot of money on advertising and branding. But what about the lesser-known players who do not have the brand name, google location or budget for such campaigns?
For them, it is about getting their name and marketing materials out to as many places as possible. And being seen and heard across many channels. This is not achieved by placing the material behind a barrier. This is achieved by making the material accessible and easy to share.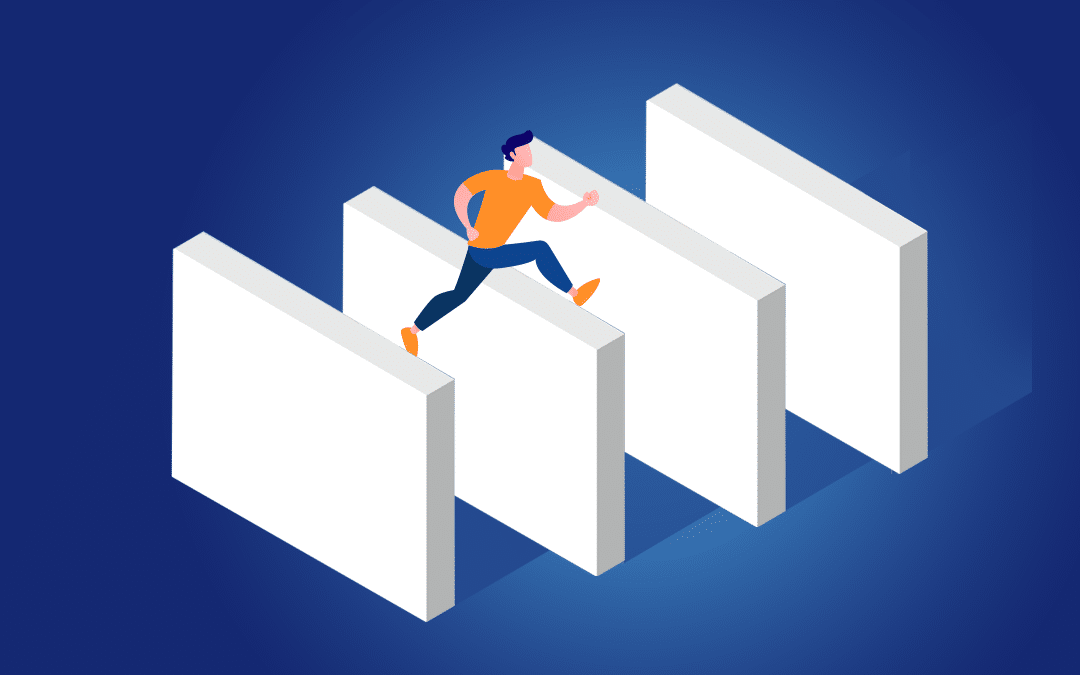 Breaking Down the Barriers
However, does this mean that online forms should never be used? No, online forms definitely have their place in lead generation. But they must be used correctly and should often also be supplemented with other measures.
Forms, as a rule, should be as small as possible. The fewer things the customer has to answer, the more likely people will fill out the form. In fact, research shows that the conversion rate will increase up to 25%, simply by removing one field. Forms should help provide a good experience for the customer.
Marketing must not just be focused on generating leads. Good marketing is also about giving the customer a good experience and making them want to talk to you. Contact forms that support this experience are the ones that offer an easy opportunity for the customer to get in contact with you. Examples include; learning more about a topic such as receiving a regular newsletter or downloading an eBook.
However, it doesn't solve the problem for sellers who want the role of a trusted advisor. Thus, being able to guide the customer through the various options when there is a longer decision-making process.
For this, it is often a good idea to supplement with gamification.
Get Your Game On
Good advice never goes out of fashion. And Gamification is sound advice to take in an attempt to overcome some of these barriers. Gamification is a strategic approach to get customers to engage with you with online games, quizzes and competitions.
In a world where product complexity and price often mean that the customer needs help making the right choices, it can be an advantage to be able to reach the customer early in the process. Gamification in marketing enables marketers to do this.
The simple art of applying an interesting quiz or game will have your customers interacting with you sooner, rather than later or in some cases not at all. The ability to design, launch, and track game campaigns on your own makes it fun for marketers too. As a result, creating strong business results much faster.
There are many gaming concepts that can be used to help stimulate your customers, and push them over the hurdle. Whether they are knowledge or skill based it will help bring out the competitive side of your customers. Hence, leading to higher engagement.
What is more enticing for marketers is that your campaigns can be integrated with various CRMs and Customer Data Platforms. In addition, tracking all data to provide you with the necessary insights. And your gaming campaigns can be applied to a landing page, a pop-up or application.
Leading The Way
If you do not have the brand name or the budget to drive large amounts of traffic to your website, you should consider whether the classic online lead generation, based on gated content, is the right strategy for you.
Gated content has had its heyday. But as the internet has accustomed us all to self-service and home research, it is time to set the information free so that customers can find it for themselves.
Well-designed contact forms with good call to actions and effective gamification tools should be among the best weapons of the forward-thinking marketer. 
 This blog post has also appeared in a MarketingPlatform Newsletter.
Author: Alex Trajcevski
Try MarketingPlatform for free for 14 days
The trial period is free, completely non-binding and expires after 14 days if you do not wish to continue.
When you sign up, you will also receive our educational flow via a series of emails along with our newsletter with regular updates.