Have you ever heard of service emails? Maybe you have, or maybe not. Regardless of the fact, in terms of email marketing, service emails play an underlining role not seen by many. Service emails are not to be confused with customer service emails. Something which we will elaborate on later in this article.
Email is one of the most common and preferred methods of business communication. Based on a 2020-2021 survey of smartphone users, 46% of business communications were done by email. This figure being far ahead of SMS (25%), WhatsApp (25%) and phone calls (24%). And this is where email marketing does most of its work; by raising brand awareness, nurturing leads, promoting and selling products and services.
However, service emails play a slightly different role. So, are you getting the most out of your emails? Are you using service emails? And more importantly can you use service emails for marketing?
But First, What Are Service Emails?
Service emails are notifications, alerts, receipts, confirmations etc. that are sent to a recipient. Service emails generally contain information about products or services to which a recipient has made a commitment too. For example; the purchase of a product or subscription.
Here, the email is not of a marketing nature. And unlike email marketing, where permission is needed to be able to send an email, with service emails it is not needed. So, service emails can be sent without permission if they are not regarded as marketing emails.
Why Use Service Emails?
Service emails are used for many reasons. The main reason being the instant delivery of information to customers. This plays a key role in the overall experience customers receive. And without great customer service, there would be no customers to service.
Another reason service emails are used is because they are environmentally friendly. Instead of sending out printed material, be it a receipt or information updates, now they are sent electronically.
Service emails can be used for several reasons and should not be limited. Frequent send outs occur with items such as a statement of accounts. Whereby, a frequent customer or client would benefit dearly. They would receive an overview of their account and at the same time you would continue building relationships and servicing them. Overall, staying top of mind.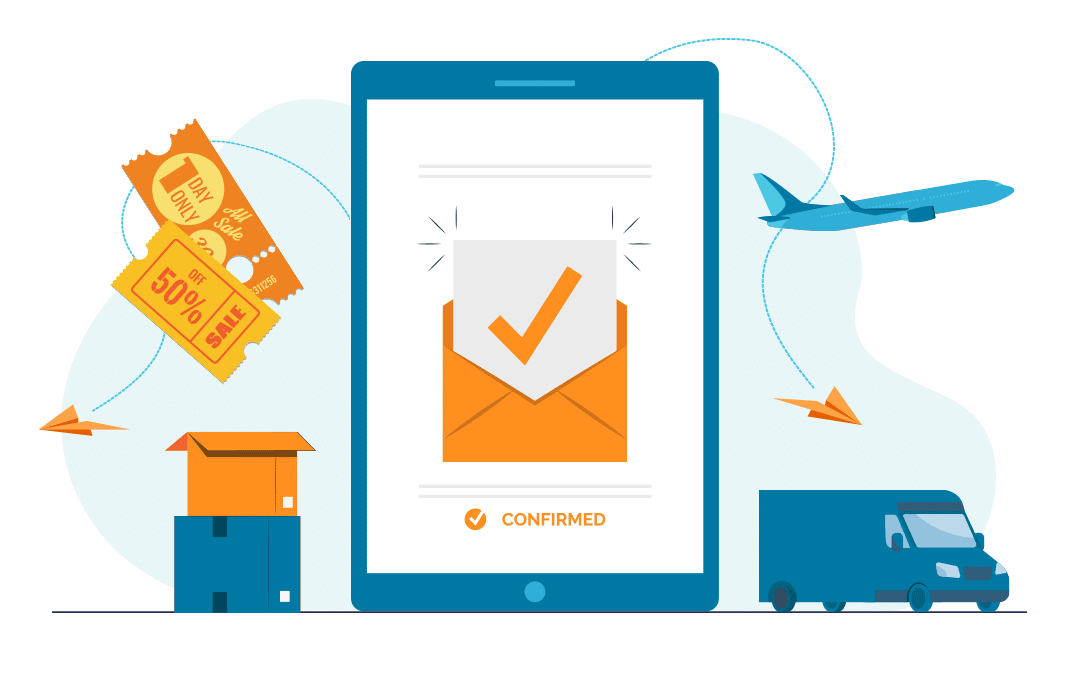 Service Emails with Notifications
A prime example of using service emails is with the updating of terms and conditions. Whenever you update your terms & conditions, your customers/subscribers need to be notified. And what better way to do this than by email? Straight into the recipient's inbox and no need to mail out several pages of printed material that will only end up being thrown in the bin.
If your company has had a change of business address or contact details, then a service email is sent notifying the customer(s) of the change.
A customer may also update or change an order or account information via phone or chat. Then, almost instantly they would receive confirmation of the change. And any relevant updated documents are sent via email too.
A customer decides to reset their password, for one reason or another, so several service emails are sent to reset and confirm a new password.
Another form of notification is when a customer has logged in from an unknown, or new, location. An email is sent asking the customer to confirm their login.
Service Emails with Order Confirmations
Order confirmations are most common within the eCommerce sector. A web-shop receives an online order. The order is then followed by an email confirmation along with all relevant purchase information; date of purchase, delivery address, product, tax receipt etc.
An online order may also consist of a pre-order. The order has been placed but the product(s) may not be currently in stock or available. In this instance confirmation of the pre-order will be sent. And further service emails will be sent once the order is in stock and ready for dispatch.
Another service email can be sent when the order has been shipped. Followed by an email that the delivery has been completed, with the customer accepting receipt of the goods. Or proof of signature.
And a further email can be sent, at a later stage, asking for feedback.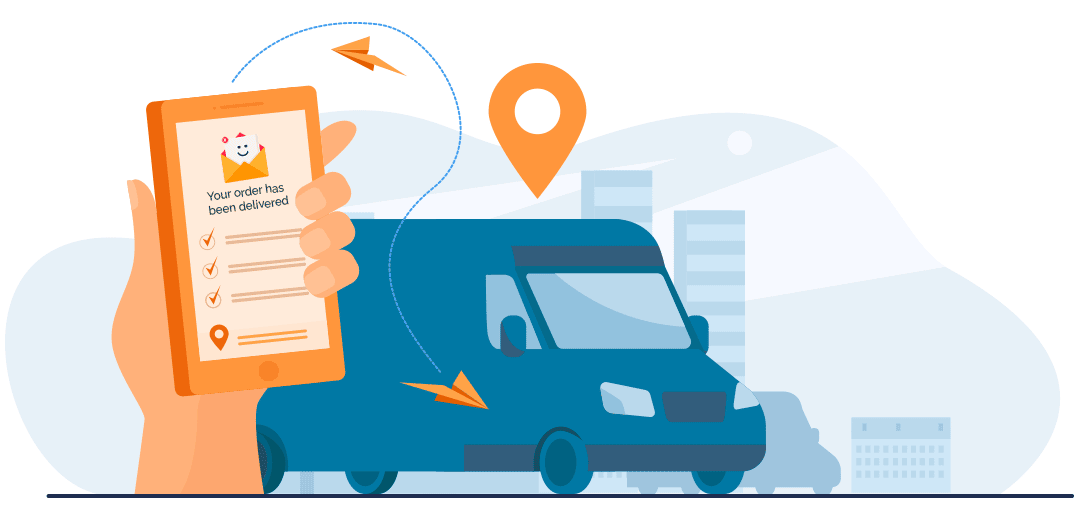 Service Emails with Customer Feedback
Service emails are also commonly used for obtaining customer feedback. Want to know more about how you are performing or what your customers think about your product or service? Then all you need to do is ask.
Obtaining feedback can be done via a survey. This can also help with future decisions on your marketing and business needs in general. Perhaps your brand is not as well-known as others. Or your business is lacking in a particular field of expertise. The information provided in a survey will help guide and shape your future marketing goals and campaigns.
Other Examples of Service Emails
There are endless examples of using service emails. A brief overview of others includes:
Flight bookings, changes and cancellations.
Ticketing for sporting events.
Ticketing for entertainment events
Changes to offers and options in subscriptions.
The above can all be delivered directly to a mobile phone. Entry into an event can also be actioned via a mobile phone. Check-ins can also be completed via a mobile phone. So, there is no need to print out itineraries or hard copies of tickets and information.
Service emails can also be accompanied by SMS notifications. Delivering two notifications via two different channels can only be a benefit to both buyer and seller.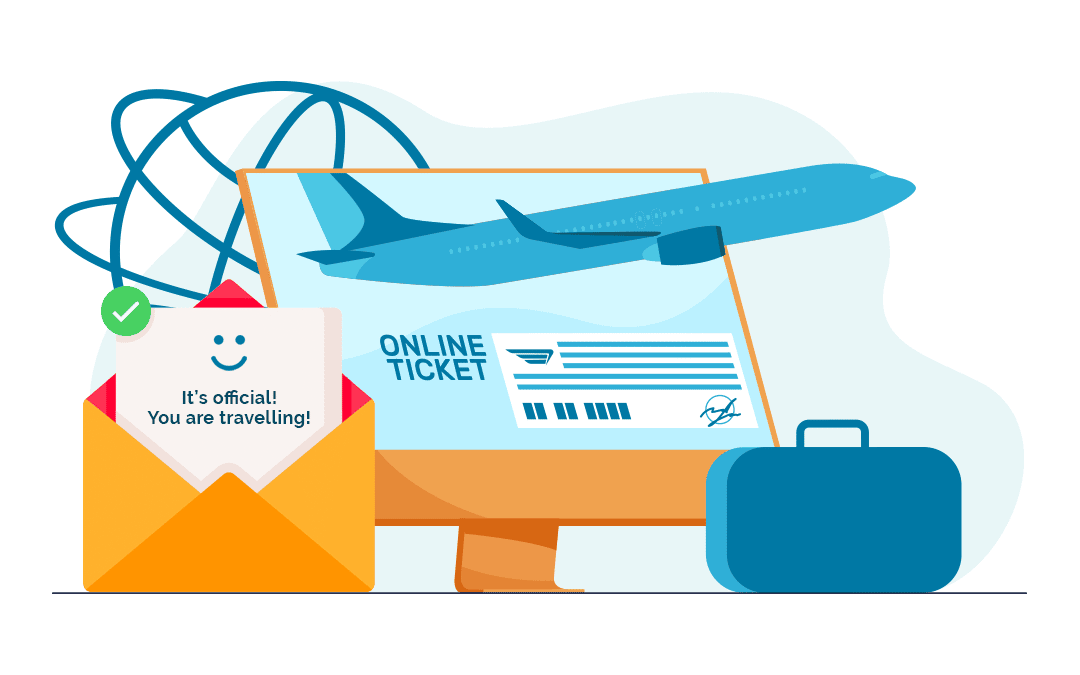 The Difference Between Service Emails, Marketing Emails and Customer Service Emails
The differences are quite clear as outlined below.
A service email provides information about a recipient's commitment, where no permission is required for it to be sent. This is a form of one-on-one direct communication. Here your email is almost guaranteed to be opened, which makes your open rates look great.
A marketing email is about promoting a brand, product or service, where permission is required for it to be sent. Marketing emails are sent to large groups, and not individuals, unless part of an automated flow. Here, your email is not guaranteed to be opened. And your open rates will be affected.
Whereas a customer service email is generally a warranted response to a customer's question or concern. A response is needed when a complaint, or even just a general query, has been made.
Service emails and marketing emails are controlled via automation. Marketing automation does the work for you. All you need to do is set up the correct flow of actions. So, you are left with a seamless process.
A customer service email may have an automated response. However, depending on the matter it will almost certainly require human interaction in providing a response or resolution. So, a personal email is composed addressing the matter.
The laws that govern email state that if an email promotes goods or services then it is considered a marketing email. And if the information only pertains to the purchase of goods or services then it is considered a service email.
A Service to Your Customers
The perception created for customers with service emails is that of a positive nature. A customer has all the relevant information about their purchase or commitment at their fingertips. Email is the perfect gateway for direct and instant communication. The same can be said for SMS; instant confirmations and motivations sent right to your mobile phone.
So, how you use service emails, while adhering to relevant laws, ultimately determines whether you can use service emails for marketing. But service emails in some cases can be seen as indirect marketing, behind the scenes. Just like asking for feedback or conducting a survey can result in the reduction of unsubscribe rates and an increase in engagement. This way you always remain front and center.
This blog post has also appeared in a MarketingPlatform Newsletter.
Author: Alex Trajcevski
Try MarketingPlatform for free for 14 days
The trial period is free, completely non-binding and expires after 14 days if you do not wish to continue.
When you sign up, you will also receive our educational flow via a series of emails along with our newsletter with regular updates.