Use the update contact field feature to update your contacts' information based on which links they click on in your campaign. In your campaign, you have a number of links. The links tell their own news or topic. By collecting knowledge about what your contacts click on, you will know more about them and can therefore send them more relevant campaigns.
How to update contact field
Create your campaign. Insert links to the various news/products and click on "Update contact fields". You will see a list of all the links there are in your campaign. For each link you can define with which value your contacts should be updated when they click on that link.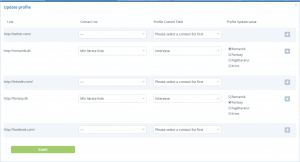 Connect your links with your contact fields 
In this way, you can get more information about your contacts, without them having to fulfill, for example, "update profile" form. You can use the collected information to create segmented sendings, so that you only send the most relevant news/products to your contacts.
Watch this video to see how to connect your links with your contact fields.
March 2019