If you manually update your contact list, you may have received a list of contacts who have unsubscribed – but have not done so directly in the newsletter which is why you have a list of contacts to unsubscribe. Instead of doing this individually for each contact, you can do this all at once.
Unsubscribe multiple contacts
In the menu under "Contacts" you will find "Unsubscribe contacts". Here you choose which contact list the contacts should unsubscribe from and after that you insert or write the email addresses to unsubscribe.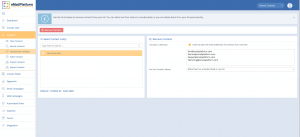 Select a contact list and write the contacts to unsubscribe. 
Click on "remove contacts" and the contacts will be unsubscribed. Should there be errors in your list, e.g. a contact is not subscribed to the list, this will be written at the top of the page, so that you know that the contact is not unsubscribed.
You will always get a notification if there are contacts who are not unsubscribed. 
Import unsubscribed contacts
You can also choose to import your contacts as unsubscribed. To do so, go to Contacts -> Import contacts.
Here you choose which list to unsubscribe your contacts from and then upload your file with the unsubscribed contacts. The important thing is that you choose the contacts to be imported as unsubscribed. Check that the column with email addresses is also mapped correctly, so that on the top of the column says "Email address". When you click on "Finish", you will get a notification that you are about to unsubscribe your contacts. Confirm and your contacts will be unsubscribed. As always, when you import contacts, you will receive an email when the import is completed.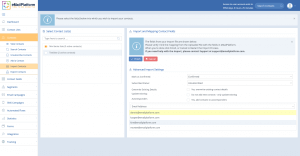 Unsubscribe your contacts via import
August 2019