Are you looking for some Easter email marketing tips? Then look no further.
In this article we provide you with the 3 essential Easter email marketing tips to get the most out of your campaigns. Easter sales are one of the major selling periods of the year. With other major selling periods being Black Friday and Christmas, just to name a few.
When Is It Time to Crack an Egg?
Easter is a Christian holiday, and a festive one at that. Unlike Christmas though, Easter does not always fall on the same date each year. In addition, some faith believers of Christianity also celebrate it on different days due to still following the old Julian calendar.
And just like Christmas, Easter has also become commercialized. Therefore, in some parts of the world school holidays are generated around Easter. This also brings about a time for travel and family gatherings. With that said, it has also become a time for gifts, presents and money spending.
And let us not forget about the Easter Bunny. Chocolate sales are high during this time of year. 87% of people who celebrate Easter enjoy Easter-themed seasonal chocolate. Because who does not love chocolate?
So, what does this all mean for your email marketing? Well, it is another opportunity to flex your muscles with your email marketing campaigns, apply your trade, and emphasize your brand. Thus, allowing you to expand on your previous successes. Or make right where you may have slipped up in the past.
Therefore, provide yourself with ample time to prepare and let these 3 essential Easter email marketing tips guide you to success.
1. Getting into The Spirit
Getting into the spirit of things will be on the top of your list. Incorporating Easter themes into your campaigns is not just a preferred choice. It is necessary. Easter campaigns will draw the attention of consumers because they are preparing themselves mentally for the Easter period.
To make the most of your campaigns, themes should include bright fresh colors and images associated with Easter. Images such as bunnies, eggs and religious images are common. But most importantly they should represent joy and happiness. Whereby, connecting emotionally with consumers during this time.
Using Easter puns is a debatable topic. Although some see it as cliché, others still see its benefit in keeping with the theme. This can also keep your campaigns on the lighter side.
Some examples include:
Egg-cellent.
Who else is egg-cited for Easter?
FREE eggs for every bunny.
So, whether you choose to use Easter puns in your Easter email marketing campaigns or not is up to you.
2. Finding the Right Campaign
With such a big sales period expected, it is important to get your campaigns right. And the best way to do this is to perform A/B split testing. Send two different campaigns to a selected group from your email list(s) and see which one performs best.
You can also review campaigns from the past. Add on to the success of previous campaigns. Or look at those that fell short and see where you can learn and benefit from them.
It is also a good opportunity to focus on the seasonal change during this time. Especially if you are in the game of selling seasonal stock. Depending on which part of the world you are in of course. So, if you are heading from winter to spring then you can focus on two elements. One being the clearing out of winter stock. And the other being the new spring arrival of stock.
Some examples include:
Easter Sale Now On. Hop In-Store to Receive Up To 50% Off.
All Eggs Must Go. Easter Sale This Weekend Only.
Happy Easter. The Hunt for Special Deals Is Over. Seasonal Clearance.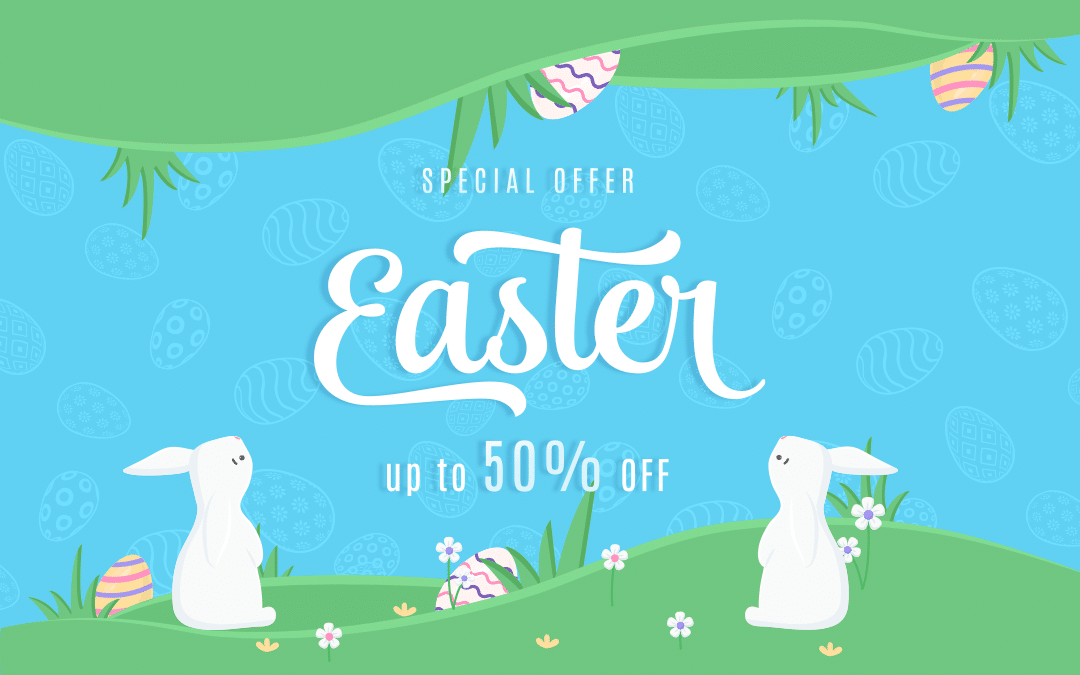 3. Timing Is Everything
Once you have your campaigns sorted out, it is time to plan delivery times. Space out your campaigns to create a sense of urgency by drip feeding information at the beginning. You should always begin with a sneak peek of what is to come. Then reveal more as you get closer to the main selling period and ramp up your campaigns as you enter the final week or days. Campaigns for Easter can run for the week, weekend or even the whole month, depending on your preference and nature of business.
Timing is everything, so you should be mindful of not delivering all your campaigns at the same time. You should, however, group your email lists to make the most of increasing your web traffic over a period and not cause an overload on your web server. Especially if you are a big e-commerce brand, you do not want all your orders to come through at once. A steady pace is more ideal and manageable by all within your company.
Segmentation plays a pivotal role in managing your processes and campaigns during busy periods. So let the marketing automations do the work for you.
Some examples include:
Easter Is Around the Corner. Are you Ready?
Easter Sale. Just In Time for Spring.
1 Week and Counting. Do Not Miss Out on These Great Deals.
Last Chance. Easter Extravaganza. Sale Ends This Weekend.
Bonus Easter Email Marketing Tip
Offer incentives to shop on Easter Sunday.
Given the Easter period is a time for school holidays, travel and family gatherings offering incentives to shop on Easter Sunday can be a big draw card. This can bring you much-needed traffic and sales, making your campaign period a successful one.
Remember, customers are in the spirit of things and may be drawn to making that extra emotional purchase on Easter Sunday.
For example:
Shop This Sunday and Receive an Extra 10% Off.
Shop Online This Sunday Between 9am-11am and Receive FREE Shipping.
With the last example you can send group emails to provide a steady inflow of traffic throughout the day. As discussed in tip 3, timing is everything. So, in this example you can group email lists into more timeframes. For example: 12pm-2pm and 3pm-5pm.
The Chicken or The Egg?
So, what came first, the chicken or the egg? A burning question that never seems to burn out. Regardless of your opinion, science would suggest the egg. For without an egg, there could be no chicken.
Does it really matter though? It is like debating whether to start pedaling your bike with your left foot or right foot first? It does not matter. Just make sure you are pedaling, otherwise you will fall off. And in business terms, if a brand falls off the radar, then it is unwelcome news. So, leave the trivia behind.
And with that, one thing is still certain, no business can thrive without marketing campaigns. And by following these essential Easter email marketing tips, you also may be able to reconnect with inactive users. So, make the most of your campaigns while in season. And enjoy an egg or two!
This blog post has also appeared in a MarketingPlatform Newsletter.
Author: Alex Trajcevski
Try MarketingPlatform for free for 14 days
The trial period is free, completely non-binding and expires after 14 days if you do not wish to continue.
When you sign up, you will also receive our educational flow via a series of emails along with our newsletter with regular updates.