In many cases, you will need an expanded segment, in which selected contacts from the same or a different list should either receive or not receive your newsletter. In that case, use the +/- feature in the tab above your filtering.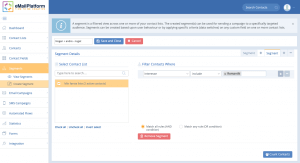 +/- segments
Minus segment
You can start by making an ordinary segment where you filter that John is a seller and a city is London. However, you have some contacts who have already received the campaign, and in that case, you need to create a minus segment in which you filter that some contacts have already received a previous campaign. This way, you will find all contacts who have John as a seller and live in London, and you ensure that the contacts who have already received the campaign will not receive the campaign again.
This needs to be understood as one segment minus another segment – entirely according to your own rules.
Plus segment
You may also need to create a segment with all female contacts who live in a certain geographical area, and have VIP status in your customer club. In addition to them, you also need a segment with all female contacts from another list who have shown interest in a particular event. This will be a plus segment, as, in addition to your first segment, other contacts need to be included.
You can create your segments as simple or as complex as you need. Keep in mind that by sending your campaign to a segment and not to an entire list, you will better hit your audience with relevant content.