You can link your social media with MarketingPlatform. This way, you can publish your newsletter on Facebook or Twitter when you already send to your contacts.
Connect with Facebook or Twitter
When you create a contact list or edit an existing one, you can connect either your Facebook or your Twitter account with MarketingPlatform on the right side. Click on the medium you want to publish on, allow pop up and log in to the medium. Once you have confirmed the connection, select on which side to post.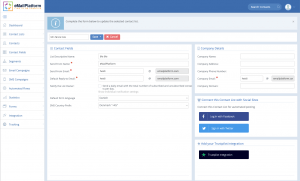 Connect your social media and directly publish your newsletter
Create your post
You can decide for yourself how your post should look like. By default, we use the first text and the first image in your campaign for your post. However, you can also design the post yourself under the social tab in the Builder. Here you can choose which image to use, as well as which text should be displayed when the campaign is published on your chosen media.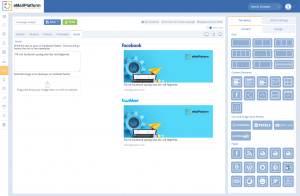 Decide which text and image to use in your post. 
Send and publish
When you send your campaign, in step 2, activity, choose on which medium your campaign should be published – depending on whether you have both Facebook and Twitter attached. In step 3, you can choose whether to send the campaign or only to post it on the selected media.
See the video of how to post your campaign on social media
March 2019