Marketing Automation
Use MarketingPlatform to strengthen your business with Marketing Automation.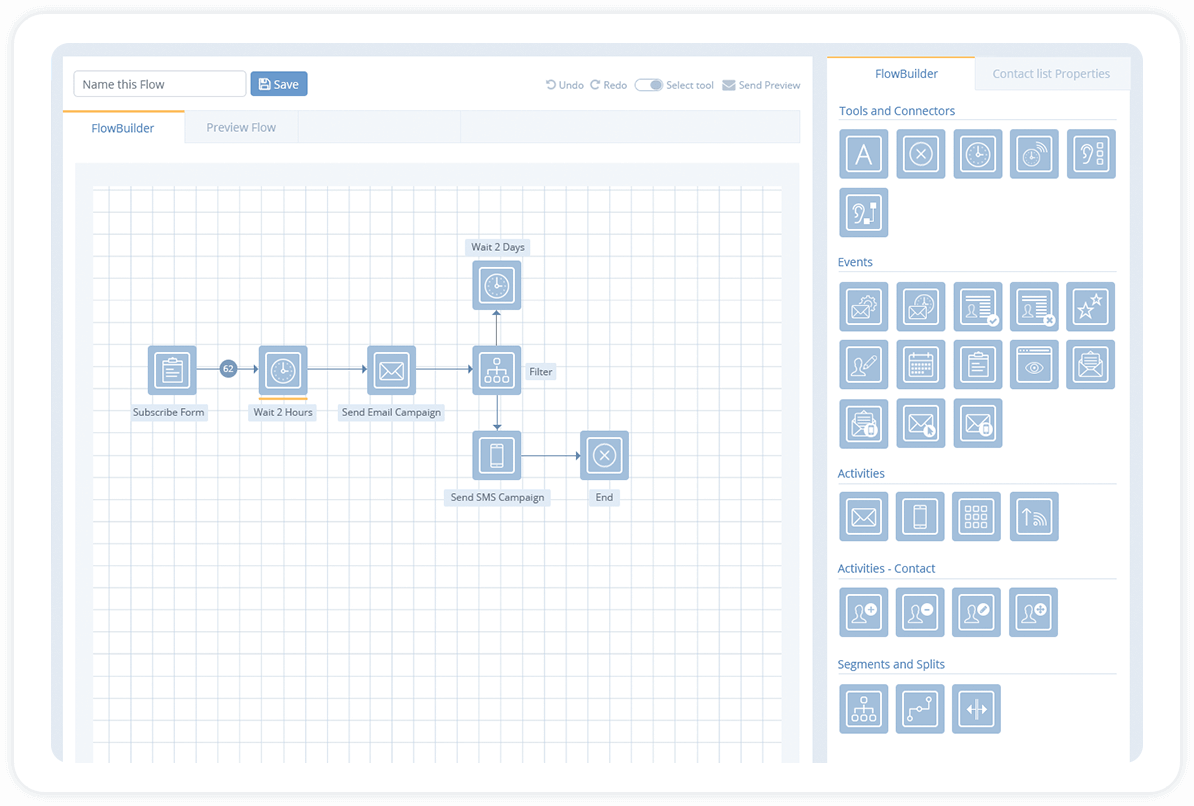 Use MarketingPlatform to strengthen your business with Marketing Automation. Marketing Automation is the well-functioning machine that ensures your customers remain loyal – a cornerstone of any customer club. With Marketing Automation, you can target your customers at a time that makes the most sense, both to them and to you by way of the revenue created through your Email Marketing. MarketingPlatform has all the tools needed for effective Marketing Automation, enabling automated campaigns across various channels. You can respond intelligently to any action, from emails, SMS and the web. We help your business achieve an even better bottom line. Marketing Automation tools are included in all subscriptions. We call these features Automated Flows and Intelligent Content.
How does Marketing Automation work?
Using Marketing Automation, you can set up flows that automatically send Email Marketing campaigns to the subscribers on your contact list. And while it may sound complicated, it's actually quite straightforward and is something that can contribute very significantly to your business. In the past, the common practice in email marketing was to send out newsletters at selected times because there were no other tools. With Marketing Automation you now have opportunities that target your customers much more creatively and effectively – and at the same time, you get more time to focus on other important tasks in your businesses. Typically, you see higher conversion rates with Marketing Automation than with ordinary email marketing campaigns. Whether your business is B2C, B2B or something completely different Marketing Automation is very relevant for you to use. Generally speaking, there are three fundamental components in the Marketing Automation process. 1. Data must be collected so that you can set up triggers that automatically send the email. 2. Set up the rules of how you want to target the person. 3. Finally, the content itself must be prepared. Make a strategy about how you would like to target your customers with your email marketing and at what times. A very basic example of Marketing Automation is to set up a welcome flow when a person subscribes to your newsletter. In this case, the recipient is already in a mindset to act and you know he or she has shown interest in your business. A few additional examples of Marketing Automation flows: 1. A person has subscribed to the newsletter and subsequently makes a purchase on your webshop 2. If the customer has made a purchase for less than 100 euro, the customer will receive an email with products of type 1. If the customer has purchased for more than 100 euro, the customer will receive an email with type 2 products. 1. The customer has a birthday on the 25th of January 2. On the day of their birthday, a personalised email will be sent automatically that includes a special incentive such as a free gift or 20% discount 1. The person has subscribed to the newsletter but is yet to make a purchase on the webshop 2. Through a series of automated mails, you send information to the person which creates a trust-relationship between you and the customer, which ultimately convinces the customer to buy on your webshop. After the purchase, the customer is moved to another Marketing Automation flow – for people who have purchased on the webshop.
Omnichannel Publishing with Marketing Automation
MarketingPlatform is a truly flexible and scalable marketing automation solution, seamlessly integrating with your omnichannel marketing strategy. Just like you, we view the experience as a totality, seeing through the eyes of your customer. We, therefore, see our role as helping you orchestrate the customer experience across all channels so that it is seamless, integrated, and consistent. We fully understand that customers may begin their journey in one channel and move to another as they progress towards their final destination. MarketingPlatform is your perfect omnichannel publishing partner to work across the channels.
FlowBuilder
The MarketingPlatform FlowBuilder takes planning, execution and delivery of your communications to the next level. Unlike anything else currently available, FlowBuilder ensures the vital time you dedicate to being creative is even more fun and productive. With FlowBuilder you can tailor your campaigns perfectly within your omnichannel marketing plans, helping you take them from the strategic to the tactical. We are really excited about FlowBuilder, and we think you will be too.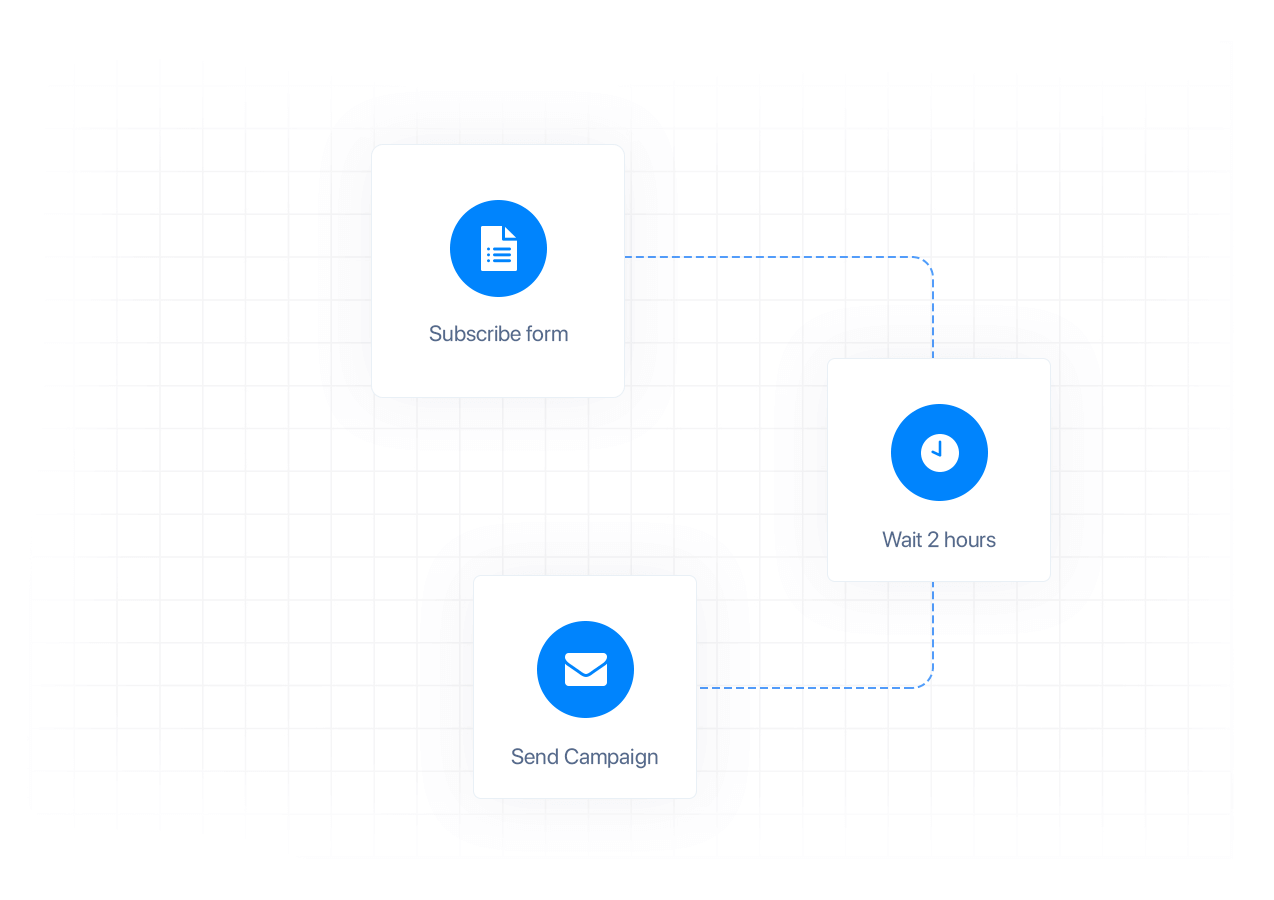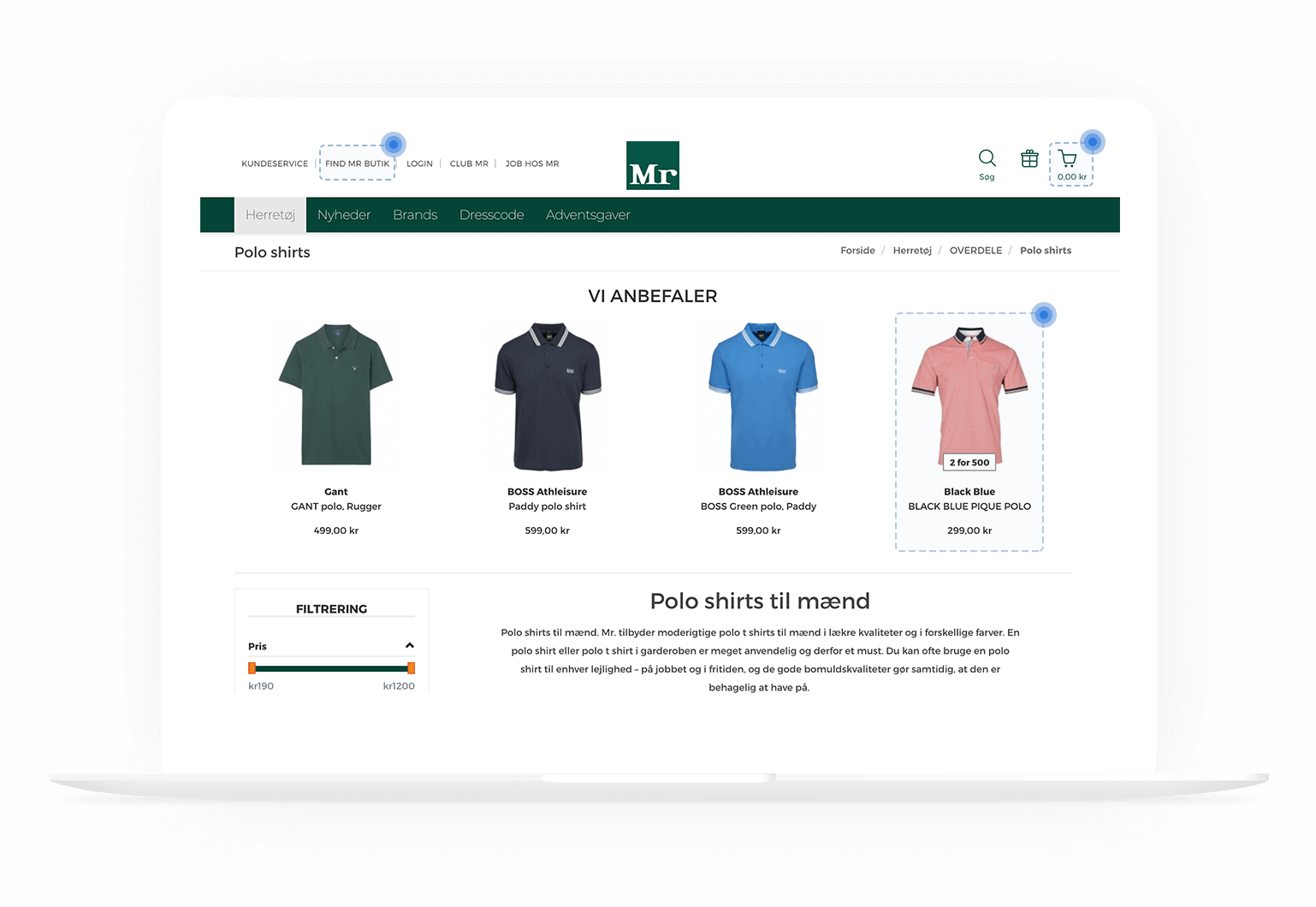 Weblinks (integrated site-tracking)
MarketingPlatform registers every action carried out by your recipients. We collect information about how many people open your newsletters, what they click on, who unsubscribes and which email addresses are no longer valid. Unsubscribed and bad addresses are automatically removed from your lists. You can also see if the recipients open your emails on a PC, tablet or mobile phone. Most of all, we have made it easy for you to understand how your campaigns perform. At a glance, you are able to see how many recipients open and click on your campaigns, who they are, and when it happens. Furthermore, should you wish to do so, you can create your own filters and data cubes to ensure the content you serve up is even more relevant.
Webtracking
Tracking feature in MarketingPlatform connects web, app and other channels with MarketingPlatform.
The feature handles abandoned baskets, products added and removed from the shopping basket, steps in the purchase flow (checkout steps), other flows, product views, product and category mapping and, should you have the need for it, the feature can also handle traffic tracking on other pages, and it can record events such as click, play and download.
All collected actions can be used to create possible segments and automated flows. In other words, we have made it easy to communicate intelligently based on data.
Intelligent content with focus on the recipient
Unfortunately, most companies do not send intelligent newsletters and as a result, do not take into account the recipients interests or what kind of content the recipient would like to see in a newsletter.
Newsletters that are automated or part of a flow are often called Marketing Automation. Marketing Automation does not need to be particularly intelligent, however, the timing and order of messages are often set up by the sender.
Intelligent content with MarketingPlatform can have many faces.
It can come directly from an external source, such as webshops and products.
The products can be selected for the individual, based on their past behaviour on the website, their purchase history, or just from their interaction with the newsletter itself.
In MarketingPlatform, the features touched on above are called External Content, Dynamic Content and Relevant Content.
Listen, learn and react with Marketing Automation
Back in the day creating individual customer relations was easy. The local butcher knew his customers personally, and he could target his spoken message directly to Mrs. X. Today, the number of available outlets has grown, and in many areas, the butcher has moved into the supermarket, the mall or into large shopping centres. Nowadays, we experience a much more significant flow of customers, where personal customer knowledge has become almost impossible for a business. The faces of customers are blurred on the Internet. They hide behind differing kinds of screens. This then, calls for tracking and systems for targeting messages. MarketingPlatform is a system where you as a sender can learn from the behaviour of your recipients. We call it Contact Update. MarketingPlatform learns from the clicks made by a recipient in a newsletter or text message and also receives behavioural data from webshops, websites, finance systems, CRM solutions or other sources. This collected behaviour can be translated directly into intelligent flows of campaigns distributed by email or SMS. Alternatively, the data can be used in other channels – a variation of real omnichannel marketing.
Marketing Automation with welcome flows, campaign flows and other flows
There is nothing like a warm welcome. It works in the physical world – and it works in the digital world. So, give a warm welcome to a new contact, a prospective customer, or perhaps a customer who has just purchased or visited your service by sending a targeted mail or an SMS message. Learn more about from where they have subscribed, what they have bought or where they came from. You as the sender should collect and enrich their profile with this new information, based on the action they take in the first message from MarketingPlatform. And at the same time, it is easy to build segments for the various interests that this information reveals. If you sell clothes, for example, clothes for men, women and children – it would be relevant to target the messages to the needs of the recipient. Tell MarketingPlatform that you sell items within these categories and set up flows that respond to the recipients' behaviour. If a recipient clicks on the "man" category, this can create a new flow, simply because a change of category is made. If the recipient is already in the category, a deeper targeting can be made, for example, with the product category.
Try MarketingPlatform for free for 14 days
The trial period is free and expires after 14 days if you do not wish to continue.
When you sign up, you also receive our educational flow on a series of emails – and our newsletter.