Tracking – Webtracking with MarketingPlatform
The tracking functionality in MarketingPlatform connects web, app and other channels with email marketing and marketing automation
Your visitors, who move across marketing channels both online and offline, are called multichannel visitors. Consumers can be both individuals and businesses.
As you know, measuring traffic is invaluable to your business, and for that reason, you are no doubt already using tools such as Google Analytics. However, with an integrated tracking function that knits visitor data and marketing automation together, MarketingPlatform provides you with new and even greater opportunities.
In order to handle the consumers of both today and tomorrow, your business must be able to follow their behaviour across sales and marketing channels. Therefore MarketingPlatform has created our Tracking function, which is an integral part of all subscription packages.
The Tracking function handles abandoned baskets, products added and removed from the shopping basket, steps in the purchase flow (checkout steps), other flows, product views, product and category mapping and should you have a need for it, the feature can also track traffic on other pages. Additionally, it can record events such as click, play and download.
All such collected actions can be used to create segments and automated flows. In other words, we have made it easy to communicate intelligently based on precise data.
How to implement the Tracking functionality script
Simply insert a script on your website, your webshop or app, and MarketingPlatform is linked and can immediately start collecting the behaviour of your customers. The script is generated in a few seconds as part of the Tracking setup in MarketingPlatform.
A script is a small piece of code, in line with code such as that used in Google Analytics. The MarketingPlatform script can also be easily implemented with Google Tag Manager or similar services.
Usually, the script should be inserted into the
area of your web page.
The script will not affect the performance of your page. It is designed to be skipped over by the user's browser should it fail to load. In addition, the script is distributed and hosted through Google Cloud to ensure maximum speed and scalability.
We attach your product feed to Tracking
The unique Feed functionality in MarketingPlatform is linked to Tracking. This means that we read the information about your products from the product feed (it can also be articles or material from other feeds), product name, image, URL, category, prices and much more. We automatically link that information with all the pages from the sitemap, mapping the products, and reading the categories of the products.
At the same time, Tracking is now available as a menu item in the Feed functionality inside our drag-and-drop editor, Builder. This means that products can be inserted easily into campaigns based on information and rules in Tracking – including predictive intelligence, which predicts how well the product will perform.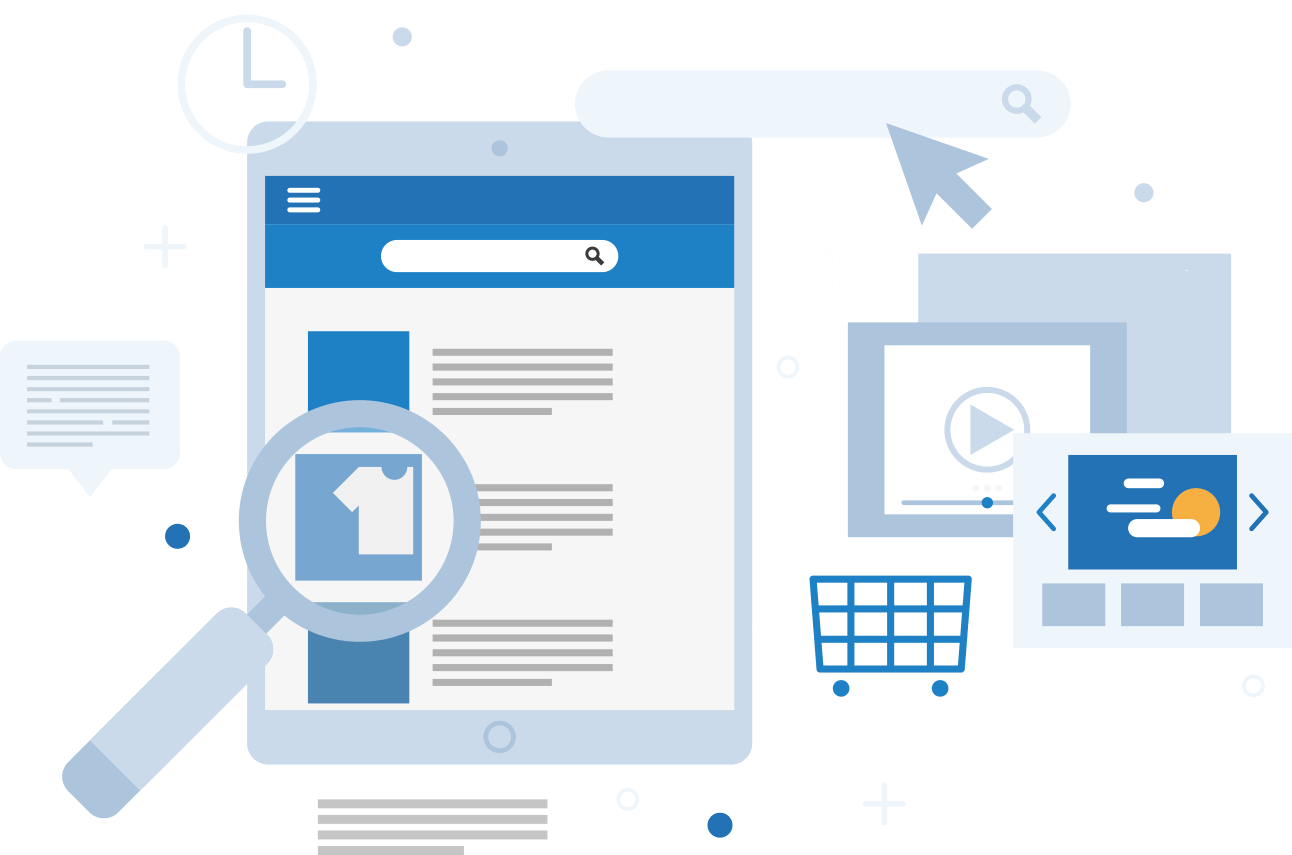 Mapping of sitemap with products and types
Once the script is inserted correctly on your page, MarketingPlatform will attempt to retrieve your page's sitemap (Google Sitemap) based on its normal location. If it cannot be retrieved automatically, it can be loaded manually, and MarketingPlatform will then read the pages from your website or webshop.
This way we can quickly get an overview of all the pages, as well as categorize the pages by type – a product page, an article page or perhaps a part of the purchase flow.
If you have connected to a webshop, Tracking can automatically compare it with the information in a set product feed and categorize the pages correctly as products along with assigning them a Leadscore value from the category of products.
Read more about the Feed function and how MarketingPlatform can automatically read your products and apply them in campaigns – targeted to the individual recipient, targeted by the knowledge gleaned from external systems or by using drag-and-drop from Feed to Campaign.
Leadscoring gives valuable insight
How often does a lead or a buying customer visit your site or webshop? This is not necessarily the most interesting thing to know. However, in order to optimize communication and make sales, it is often a question of timing.
As a result, we have developed the Leadscore function with time and value accumulation combined.
As one part of the Tracking setup, all pages (URLs) can be assigned a group value by type – or a unique value for each page.
We have predefined values ​​when selecting a type. This way products are automatically assigned a value. The purchase flow builds higher values ​​according to how close to the order delivery the visitor may be – and similar logic is applied for other types of pages.
When the visitor is being tracked
When implemented correctly the tracking script can be used on all the pages of your website or webshop. Following implementation, the script will automatically collect information about visitors.
Currently, the tracking function is limited to collecting data about visitors who are recipients of newsletters sent through MarketingPlatform. The function is constantly being expanded and it will be possible to add traffic measurement packages, enabling the tracking of all traffic to the site.
Immediately after the visitor has left the page, it will be possible to use the data for segmentation or automated campaigns, and for you to begin creating targeted campaigns.
Use of the collected data
The data collected with Tracking and the calculated Leadscore from both email, SMS and website activity can be used right across MarketingPlatform. For instance, for segmentation, as filters on content, and as behavioural content with Feeds in the Builder. It can also be used in trigger-based campaigns sent automatically on defined criteria such as time after visit, items added to basket, abandoned shopping cart and much more.
In addition, the individual contact history will, of course, be updated with relevant Tracking Information and Leadscore.
Help with Tracking setup
Our friendly colleagues in support and onboarding are always ready to advise and guide you with the optimal Tracking setup.
Contact us at support@marketingplatform.com or call +45 72 44 44 44.
We are here to help and ensure your business succeeds.
Try MarketingPlatform for free for 14 days
The trial period is free and expires after 14 days if you do not wish to continue.
When you sign up, you also receive our educational flow on a series of emails – and our newsletter.