Med24 is one of the Nordic region's leading suppliers of health and vitamin supplements with more than 18,000 products in its range. The company, located in the resort town of Løkken, is among the most professional online retail operations in the Nordics.
Med24 is part-owned by founders Nils Træholt and Kristian Brinkmann together with the Egmont Group. With MarketingPlatform, they send out numerous campaigns every week to their four Nordic markets. In fact, thousands of campaigns are created each and every year.
"At Med24, an average of 2.5 full-time employees are constantly working in MarketingPlatform, which demands speed and robustness from the platform. Just a few seconds of waiting causes huge irritation on the part of the employees. The team behind MarketingPlatform are good at listening to us, and they want to learn from our experience with the platform, and want improvements – in short we have a good and constructive dialogue," says Nils Træholt.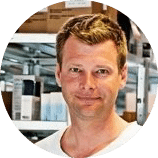 Nils Træholt, Co-founder, Med24
"The team behind MarketingPlatform are great at listening to us, wanting to learn from our experience with the platform and wanting to see improvements – putting it simply, we have a good and constructive dialogue."
"A customer like Med24 is invaluable to our company," explains Kim Østergaard, founder and CEO of MarketingPlatform. "Without loyal customers, where dialogue is a natural part of the relationship , we cannot provide an optimal solution."
Using MarketingPlatform, Med24 produces 8 campaigns every month for 4 countries. They have thousands of campaigns in the platform and are experiencing a fantastic response to the campaigns they send out.
Med24 came to MarketingPlatform from one of the major American solutions, and make use every facet of the eCommerce solution that enables a customer data platform (CDP) using order data from their webshop.
Try MarketingPlatform for free for 14 days
The trial period is free, completely non-binding and expires after 14 days if you do not wish to continue.
When you sign up, you will also receive our educational flow via a series of emails along with our newsletter with regular updates.