How to integrate Leadfamly with MarketingPlatform
What is Leadfamly?
Leadfamly is a Danish agency located in Aarhus with more than 300 customers in 10 countries. Moreover, the company has offices in Amsterdam, Berlin, Helsinki and London.
Leadfamly helps companies via gamification to collect leads on websites. They have solutions for Marketing, CRM, Social Media and learning and development platforms.
It is possible to create a large number of small games, for example, puzzles, quiz, wheel of fortune and many more that can collect email addresses from the visitors of the website.
It is very simple to set up a bridge between Leadfamly and MarketingPlatform.
Here is how to do it:
1. Log in to Leadfamly with your username and password and create a new campaign. 2. Then click on Integrations and 'Add integration'

3. Select 'Email provider' in the next image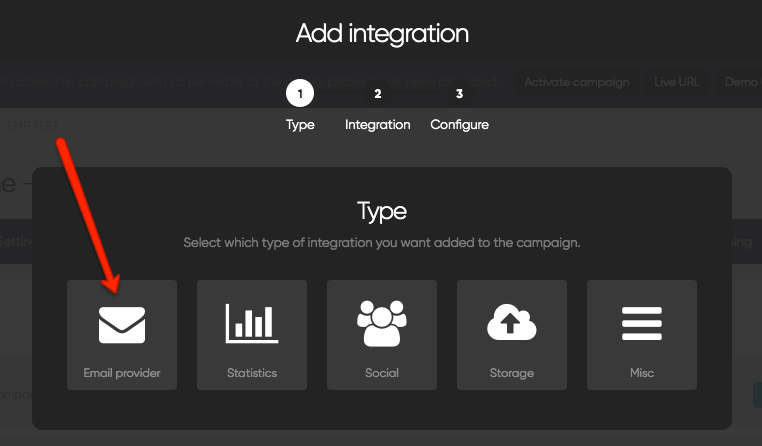 4. Then select MarketingPlatform in the list of providers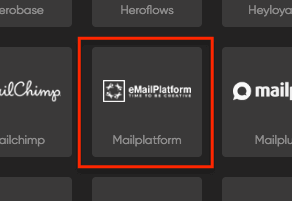 5. Now click on 'Configure'

6. You must now use a Username and an API key that you can get from MarketingPlatfrom's support. Send an email to support@marketingplatform.com. Enter the given username in Username and the API key in the API key field. Leave the API version in the already selected 'Version 2'. It is recommended to check the field 'Use Double Opt-in authentication'.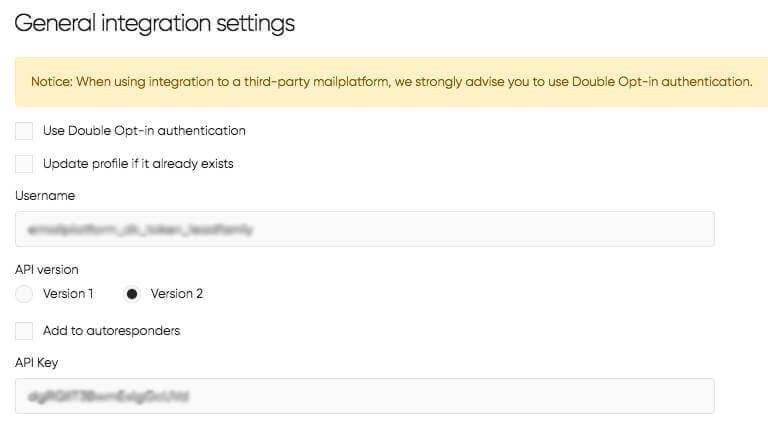 7. When Username and API Key are filled in, you now have the option to choose a contact list from within MarketingPlatform to which you will send your collected leads. Select this under 'Subscription list' and then the event that adds the lead to your list.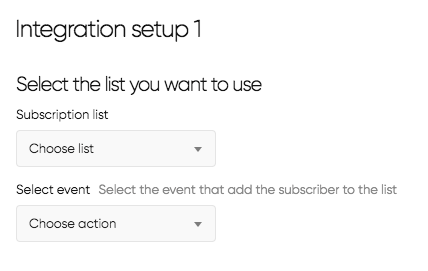 8. Once you have selected the list that your leads are to be integrated with, you need to map the fields from your Leadfamly application with the same fields in MarketingPlatform. If you have any doubts about this step, please contact our support at support@marketingplatform.com.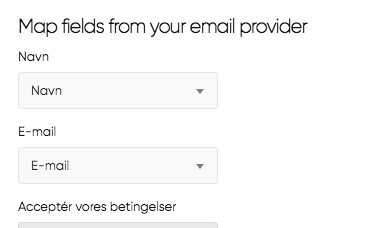 9. Next, click 'Save' after which you can send a test to see if the integration works as intended. Finish by clicking on 'Save' again. The integration between Leadfamly and MarketingPlatform is now set up and your leads will be sent automatically from Leadfamly and into the selected contact list in MarketingPlatform.
Our support team is ready to assist you if you experience problems with the above or have questions. Send an email to support@marketingplatform.com or call +45 72 44 44 44.
Try MarketingPlatform for free for 14 days
The trial period is free, completely non-binding and expires after 14 days if you do not wish to continue.
When you sign up, you will also receive our educational flow via a series of emails along with our newsletter with regular updates.