Integrate e-conomic with MarketingPlatform
E-conomic
E-conomic is one of Denmark's most widely used accounting programs. In Denmark alone, the program is used by more than 70,000 customers. Just like MarketingPlatform, e-conomic is a cloud-based program. So, there is no need to install anything locally on your computer.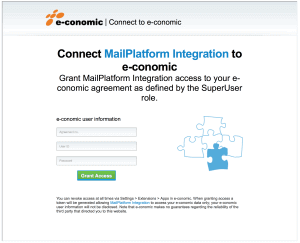 Connector
Together with e-conomic, we have created a standard integration so that customer and contact details are picked up directly between the two programs. However, this integration does require the free e-conomic API module. In MarketingPlatform, integration is part of our import feature available with all subscriptions.
Setup
The image shows the setup of the integration with e-conomic. Enter your e-conomic agreement number, username and password, tap Grant Access and your customers and contacts in e-conomic are automatically downloaded into MarketingPlatform. You can read more about the integration at e-conomic.
There is no additional charge for the integration at MarketingPlatform. Contact support@linkmobility.dk if you wish to activate the e-conomic integration into MarketingPlatform.
Prøv MarketingPlatform gratis i 14 dage
Prøveperioden er gratis, helt uforpligtende og udløber efter 14 dage, hvis du ikke ønsker at fortsætte.
Ved tilmelding modtager du samtidig vores uddannelsesflow på en serie af mails – og vores nyhedsbrev.