Email newsletter statistics are always on the minds of marketers. Since the inception of email marketing these statistics have been a center piece for online marketing campaigns. Businesses rely on these statistics, especially when it comes to analyzing and forecasting for future budgets and campaigns.
For email marketing, email newsletter statistics are crucial in understanding the performance and success of marketing campaigns.. Here, at MarketingPlatform, a recent study conducted of our statistics shows that up to 88% of all opened emails are opened within 24 hours.
But what impact are these emails having and are they true in meeting expectations? In this article, we take a deeper look into email newsletter statistics. And as a result, we conclude what these statistics reveal, and the value email marketing has to offer.
The Purpose of Email Newsletters
Email marketing has been around for quite some time now. And its sole purpose is to keep subscribers informed and updated with all things relevant to a company/brand. This mainly includes, but is not limited to, products and/or services. Newsletters generally contain valuable content that help build loyalty and rapport with subscribers. Furthermore, entrusting subscribers in becoming a customer and making a purchase at some point.
There are currently 4 billion daily email users and this figure is expected to rise to 4.6 billion by 2025. Over 319 billion emails were sent and received in 2021, daily. And this number will also continue to rise by approximately 4% annually. With that said, email newsletters will continue to serve their purpose. How could they not? Email marketing is an important aspect for all businesses. It helps drive results.
To Be or Not to Be Opened
Marketers are always interested in knowing whether their emails are being opened or not. Afterall, a considerable amount of time is spent in preparing content for campaigns. And if the response is not great, then it can dampen the mood. However, email newsletter statistics are not always as clear as night and day. And it is not the be-all and end-all of your marketing campaigns.
During our recent study, it was revealed that up to 2% of all emails are opened within five minutes. The number then doubles within the first 15 minutes, and again after 30 minutes and 60 minutes. Then it continues to gradually rise reaching a 65% open rate within the first 12 hours. That figure then reaches 88% within the first 24 hours.
So, in essence, most emails are being opened within 24 hours.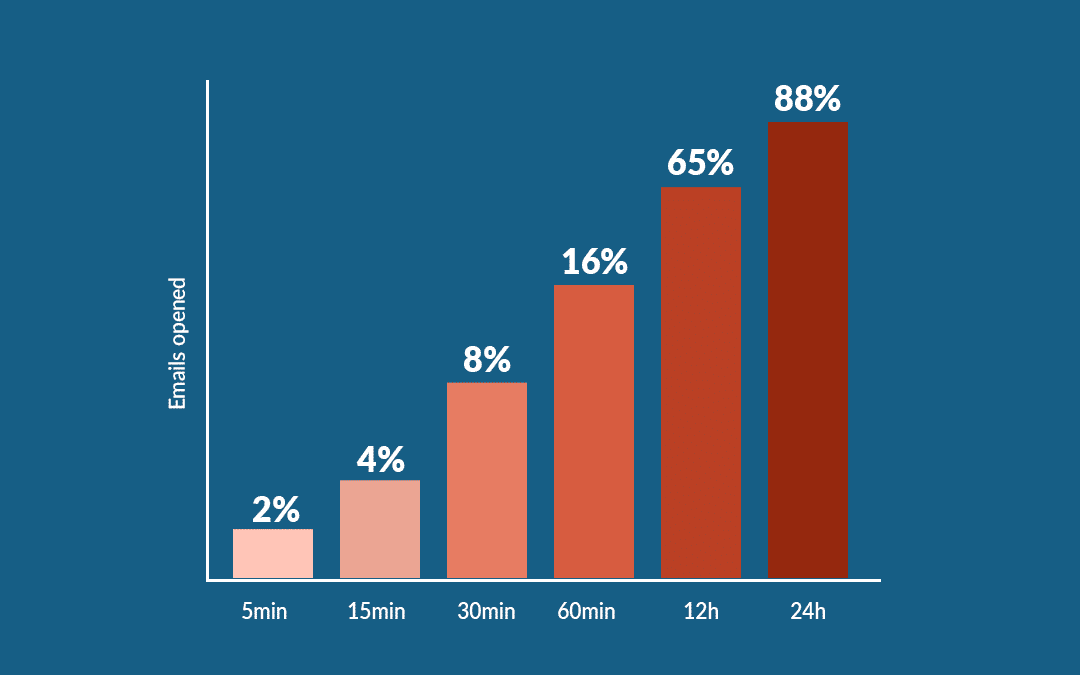 Email Newsletter Statistics Given the Time of Day
The time of day when email newsletters are sent plays a significant role in the statistics that are provided. Open rates have shown themselves to be higher when sent early to mid-week, rather than at the end of the week or on the weekend.  
The best time of day tends to favor the 7-9am time bracket, with most people checking their emails first thing in the morning, either before they go to work or on the way to work. The 4-6pm time bracket is the second most effective time of the day, suiting those on the way home from work. 
There are many ways to look at these statistics. A clear sign would show a follow up email should be sent after 24 hours to those that did not open their email. Also, a follow-up email could be sent within 48 hours to those that have opened their email, depending on the segmentation and the stage of the campaign flow.  
For example: For a campaign advertising a new feature product, the follow up email within 48 hours could be to further entice the subscriber to look at the item again in the hope that they are drawn closer to making a purchase.  
Clickbait 
Although we have seen that most emails have been opened, a defining statistic that affects campaigns lies in the click through rate (CTR). If subscribers are not clicking through to your content, then your call to action has not been heard. And who does not want to be heard? The battle for attention can get you caught up and lost amongst the billions of emails that are sent and received each day. 
Our recent study showed a click through rate of up to 21%. A rate of over 20% is fantastic. So, what this tells us is that the emails being sent are targeted well. And by targeted well, this would mean that behavioral patterns are followed, and the messages are personalized. Overall, creating engaging content and campaigns.  
The Value of Email Marketing
Common knowledge within the world of email marketing is that email marketing offers a great return on investment (ROI). That return can be up to $42 for every dollar spent. However, when brands include A/B split testing the return can not only be maximized but increased.  
Lead nurturing and building relationships is an important value that email marketing has to offer. Thanks to marketing automation, thousands of subscribers can be addressed at the same time. Therefore, providing marketers the ability to keep subscribers constantly informed and engaged.  
For marketers, email newsletters are an ideal way to nurture leads. And with the metrics email newsletters statistics provide, marketers can measure the performance of their campaigns. Whereby, providing information and insight into future campaigns and decisions. 
Other Email Newsletter Statistics Worthy of a Mention
Here are some other email newsletter statistics that provide extremely useful information and foresight.  
The Truth Is in The Statistics
As we can see, email newsletter statistics can provide valuable insight. In addition, they can also highlight areas of focus to achieve your most desirable results. 
The time and day email newsletters are sent impacts your open rates, along with which mail app they are opened with. The volume of emails subscribers receive daily can be overwhelming. And in such a dynamic world, there simply is not enough time for all emails to be opened and read. So, most people will likely skim through them, or not read them at all. 
Therefore, subject lines are crucial. It is the first thing a subscriber will see. So, creating great subject lines along with quality content over quantity should be your goal. Make sure your message is heard, loud and clear.  
Along with segmentation and personalization you are sure to reach your target audience at the right time and with the right message. Thus, providing you with the best possible outcome with your campaigns and email newsletter statistics. Afterall, it is a numbers game.
This blog post has also appeared in a MarketingPlatform Newsletter.
Author: Alex Trajcevski
Try MarketingPlatform for free for 14 days
The trial period is free, completely non-binding and expires after 14 days if you do not wish to continue.
When you sign up, you will also receive our educational flow via a series of emails along with our newsletter with regular updates.