Migration to MarketingPlatform
– We help with easy and fast migration from your current email marketing platform to MarketingPlatform
Switching from your current email marketing platform to MarketingPlatform can be done quickly and easily with the help of our migration experts. Regardless of which email marketing platform you are currently using, we can help you get data from your existing platform and into MarketingPlatform. We can recreate automated flows, email templates, forms etc. This will save you hours of work and ensure that you can continue to work with data and flows effectively as before.
What data do we migrate?
We migrate data free of charge into MarketingPlatform if you have chosen annual subscription. The amount of data and material we move depends on your subscription type. (see prices and subscriptions here)
Number of contacts/recipients
Choose
Premium
0-750 contacts
Unlimited sending
Commerce
0-750 contacts
Unlimited sending
Enterprise
0-750 contacts
Unlimited sending
Available at 22.500 contacts or more
More than 220.000 contacts?
Please contact us and together we will find the best solution for your company.

| Data we migrate | Premium | Commerce | Enterprise |
| --- | --- | --- | --- |
| | | | |
| --- | --- | --- | --- |
| Lists | | | |
| Contact fields | | | |
| Header + Footer in Templates | | | |
| Recreation of sign-up forms | | | |
| Tracking | | | |
| Connector | | | |
Content based on One-to-Many (deep data) is not included in the free migration service, but is included in a paid startup project where we help with all setups and integrations.
What data can be migrated?
The possibilities are many when you have to migrate your current email marketing platform solution to MarketingPlatform. Among the things that we can migrate and recreate are:
Import of contacts
Recreation of contact lists
Recreation of Forms
Recreation of header and footer
Guidance on setting up flows
Segment setup guide
Is there any data that cannot be moved or recreated?
Certain types of data are specific to the platform that you used before. This includes data such as statistics as well as any set up tracking. Therefore, remember to export your statistics from your current platform, if possible, so that you have this data stored.
Tracking can be set up in MarketingPlatform if your subscription type supports this. This tracking is specific to MarketingPlatform and therefore only shows the data you collect in the future via MarketingPlatform.
We do not have the opportunity to move customized code to your current email marketing platform. If any customized code is made for, for example, one of your forms, this may be transferred to MarketingPlatform. Contact us for more information.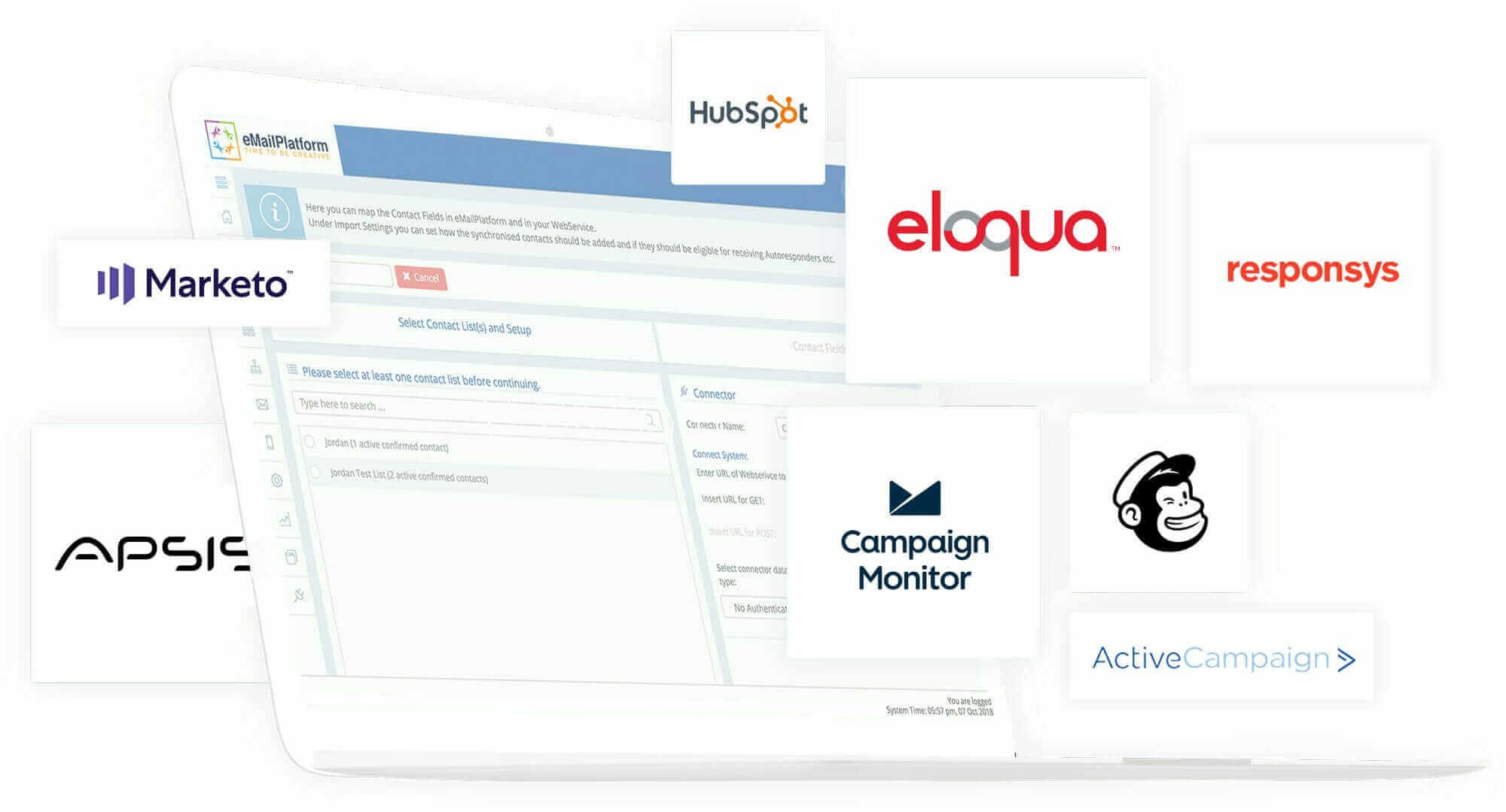 How long does it take for migration to be completed?
The migration of your current data and reconstruction of flows, etc. in MarketingPlatform depends much on your current structure and setup. Once you become our customer and have requested help with the migration, we will work with you to review your setup and provide you with a timeline for the completion of the migration.
What should I do to get started with migration?
You must complete this form and we will contact you to get access to your current platform. Before the migration, you should consider a number of things so that only the most important things are migrated into MarketingPlatform. Read more about this below. If you are unsure about which data to move over, we will talk to you so that we ensure that the important things are moved to MarketingPlatform and that you do not miss any valuable data.
Prepare your data before move
It is recommended that you review your current data before migration so that you ensure that only the most accurate and usable data is transferred to MarketingPlatform. At MarketingPlatform you pay per Contact/Recipient on your lists, and therefore there is no need to transfer contacts that are not of great value to you. You can therefore use the following methods:
1. Take a close look at all the contacts on your lists and evaluate whether they all contribute with something positive to you. If a contact on your lists has not responded to your emails for a prolonged period (e.g. last 12 months), you should strongly consider deleting them from the system before migration. Not least because inactive recipients in the worst case can trigger spam traps (read more here or here). Start by sending an email to those you haven't heard from for a long time, and offer them something to come back to the store. Some customers also respond to being told that they will be deleted from your list if they have not responded within X days.
2. Look in the statistics if specific types of campaigns or emails perform better than others and whether you can see why.
3. Have you ensured that the subscribers to your lists have opted in to receiving emails from you?
4. Do you use all the marketing automation flows and segments, and which of them gives you the most value?
5. Export all statistics that are possible so you don't miss any historical data.
6. After the switch to MarketingPlatform, it may be a good idea to keep the old account on your previous email marketing platform in order to have cross-reference and an extra opportunity to download or review overlooked/forgotten data.
There may be differences in the way your old email marketing platform has reported data and the way MarketingPlatform reports data. Contact us if you have any questions about the way in which MarketingPlatform reports data through the statistics and analytics tool.
Prøv MarketingPlatform gratis i 14 dage
Prøveperioden er gratis, helt uforpligtende og udløber efter 14 dage, hvis du ikke ønsker at fortsætte.
Ved tilmelding modtager du samtidig vores uddannelsesflow på en serie af mails – og vores nyhedsbrev.